As the name suggests, marketing automation is the computerized management of marketing tasks and processes through technology so that companies can up their operational efficiency and grow revenues at a faster pace. It will make your marketing efforts more effective without compromising the quality of content that you are sending out.
B2C and B2B businesses are adopting various kinds of software for automating their marketing processes. Be it lead generation, segmentation, customer lifecycle management, customer retention, cross selling and up-selling and measuring marketing ROI; the use of technology enables scale. According to IDC, the overall market for marketing automation will grow from $3.2 billion in 2010 to $4.8 billion in 2015.
Customized mass marketing today involves an email engine to generate large-scale results. That may or may not bring you the desired results. However, if you use automated marketing through the buying process, you could nurture leads. Lets consider an example:

This example goes to prove that even with automation, you can go further down the buying process and the lead ends up being a well-qualified lead.
As per the graphic depicted below, marketing automation consists of three main components: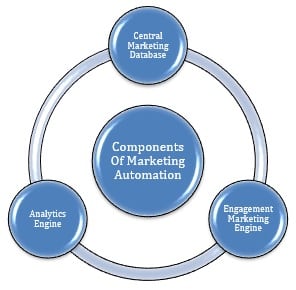 Why is personalization so indispensable?
Personalization has been around for some time. You would not have wanted to go back to the same store to shop at or eat at the same restaurant had you not felt that tad bit special or welcome. What has changed now is the scale. Personalized marketing at enormous scales is the big wave that has hit digital marketing.
By adopting marketing automation, you are probably attracting high volumes of traffic. But it does not end there. These leads need to be nurtured well as described in the example above. This is where personalization comes in. Tailoring your message based on demographics, interests, and purchase patterns with content that each individual will find personally relevant and engaging is what personalization is all about.
So why is it that every online marketer is hopping onto the personalization bandwagon in some way or the other? Here are some facts to substantiate this:
According to CapGemini, 'More than 60% of shoppers say they find it appealing when an online store remembers their personal and payment information to speed up a purchase.'
According to Econsultancy, '68% of marketers say personalization based on behavioral data has a high impact on ROI, and 74% say it has a high impact on engagement.'
Let's take a look at the major benefits of personalization:
Ups conversion rate – Ask yourself – would you rather respond to a generic message or a personalized one? The latter, we are sure! Messages with personalized content have meaning for their reader and naturally this leads to higher conversions. So if your automated marketing engine is taking care of the numbers, make sure that the messages are being personalized.
Cuts conversion time and effort – Imagine a situation where buying a product is only a single click away! The ecommerce site has recognized you and pre-loaded information from your past transaction history. This is what Amazon pioneered; the one-click purchase model. If a nurtured lead is presented this option when he is ready to buy, it can lead to a complete win-win.
Keeps novelty alive – Personalization allows novelty. Who would one want to visit a site only to view the same content over and over again? Personalization helps a brand churn out new offers and engaging content that will help push existing leads further down the sales funnel.
Improves the quality of sales calls – Big data is available to use and explore by marketers. How much the sales team works on this data to improve the customer database and create personalized offerings, can hugely impact the quality of sales calls leading to increased conversions.
Gets new customers hooked on – When a new entrant on your ecommerce site sees that you have something relevant to offer her, she can immediately get hooked on to your offering and feel welcome on the site. Refer to our example where we describe how a new user is made to feel welcome.
Improves customer relations – Personalization improves customer engagement, brand awareness and their overall experience with your brand. This helps in their retention and in creating a sense of loyalty towards your brand.
Integrating CRM with marketing automation
For those of you who believe that CRM and marketing automation software are the same, think again. They both cater to two distinct target groups – CRM is sales focused and marketing automation software is marketing focused. While the information stored by both these systems could have deep similarities, a foolproof integration is a must to make the entire marketing automation experience complete and superior. For this to happen both the marketing automation platform and the CRM system have to be in sync so that inflow of data into one is reflected in the other. Take for instance lead information entered in the CRM platform by a member of the sales team. If this data addition does not reflect on the marketing automation platform, none of the marketing activities will automatically kick-off for those leads.
As per the graphic below, the top-of-funnel activities are taken care of by marketing automation and once a lead has become a qualified sales lead and has progressed to the bottom on the sales funnel, the CRM part becomes active.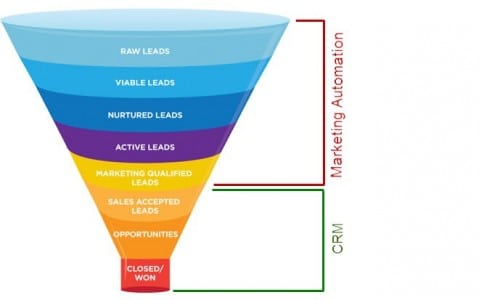 There are multiple benefits of integrating these two systems. These have been discussed below:
Greater alignment between marketing and sales teams will ensure more value for money and better campaign results.
Lead nurturing becomes easier and it helps in building better customer relations through marketing efforts.
When leads are nurtured well, customers are better informed and are likely to make big-ticket purchases, thus upping the overall revenue.
Makes predictive intelligence possible in planning marketing campaigns, as greater understanding of customer buying behavior is possible.
Reduces the sales cycle time as leads are automatically furnished with relevant snippets of data at the right time.
Leads that have gone dormant are revived through retargeting email campaigns. This ensures that leads can make purchases when they are ready or need a product.
The risk of leads slipping through the cracks and being picked up by competitors gets greatly reduced.
Marketing automation and CRM function are counterparts where the two systems are seamlessly integrated for successful campaigns. Also, it can be safely said that CRM integration is one of the most important ingredients to the success of marketing automation.
Some companies that have leveraged marketing automation have seen incredible results. It's best to find a platform that best works for you to reach your marketing goals with a fraction of the effort.
Powered by Ivyclique
Got a question for us? Please mention them in the comments section and we will get back to you.
Related Post:
Get Started With CRM Salesforce With Beginners