Today, Data Warehousing and Business Intelligence is closely tied to organizational decision making. Companies – big and small – are enabling knowledge workers (Senior Executives, Analysists and Data Owners) to make fast, tactical and outcome-centric decisions based on analytics of large-scale data. Gone are the days when DBMS based systems were used for data assimilation, storage, retrieval and processing. Today, data from various sourced need to be processed concurrently and instant results need to be presented and worked upon, to ensure customer-centric business operations. Industry verticals like BFSI, healthcare, utilities, even government organizations are turning to Data Warehousing, powered by Business Intelligence, to stay ahead in the race for success.
The rapid growth of data warehousing has opened up myriad career opportunities for those who specialize in Data Warehousing and Business Intelligence technologies. In the past few months – worldwide – there has been an upsurge in job roles that encompass these technologies.
Data Warehousing and Business Intelligence Job Roles
Some of the popular job titles are:
Data Warehousing Consultant
Data Miner
Business Intelligence Technical Specialist
Data Warehousing Business Analyst
Data Warehousing ETL Expert
Data Warehouse Architect
Data Warehousing Developer
Data Warehousing and Business Intelligence Salary
While skills like Data Analysis and SQL are steadily increasing, it is Big Data & Analytics skills that are the best paid in India, with a median salary of Rs. 939,275. An interesting trend to note is that with every additional year of experience, Data Warehousing and Business Intelligence Professionals earn multifold. Compared to a professional with less than 2 years of experience (Rs. 420,447), somebody with around eight years of experience can expect to earn around Rs. 950,000.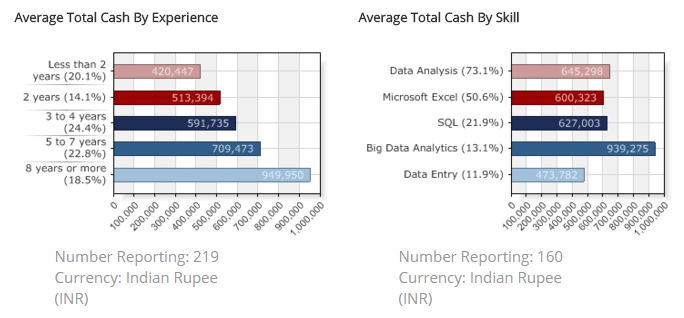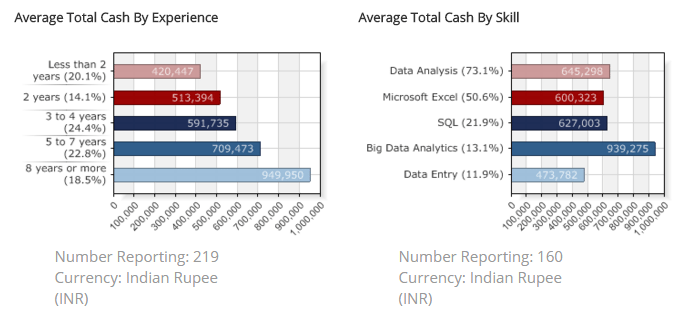 Source: Payscale.com
In the US however, it is the Business Intelligence Manager role (and related roles) that is the highest paying at $135,000 followed by Data Warehouse Manager ($125,000), Data Architect ($112,000) and Senior Warehouse Engineer ($107,000). Here's a detailed list of salaries with corresponding job roles: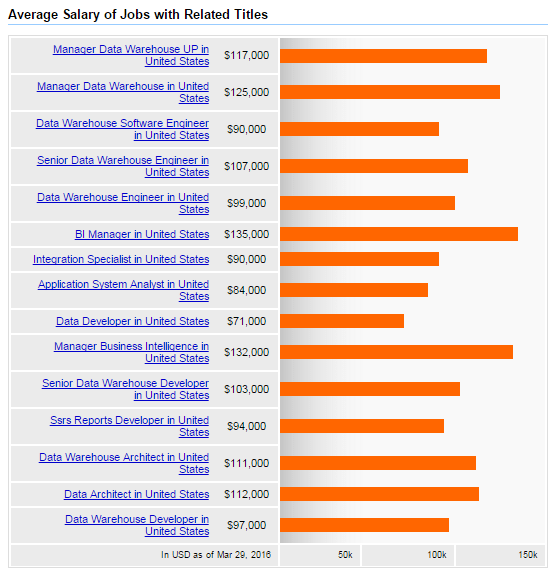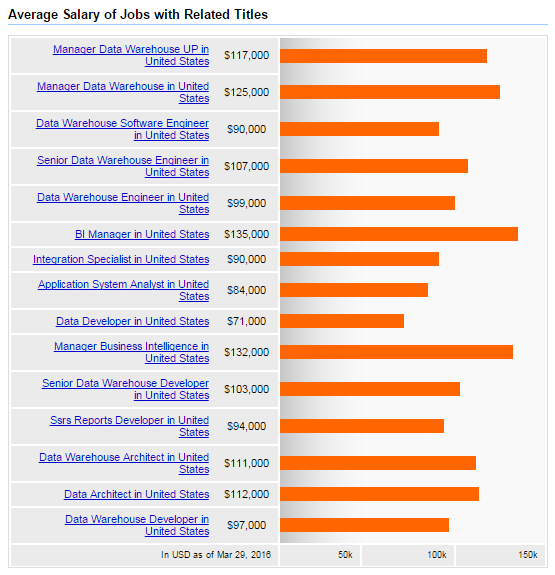 Source: Indeed.com
Data Warehousing and Business Intelligence Career Path
As a beginner, you could take on a job with any title as long as your starting point revolves around working on databases. Your next logical progression should ideally be on DWBI as a developer or an administrator, depending on if you prefer to write code or supervise operations. Next, you can focus on data mining, which is a crucial job role these days, especially in larger organizations. The cherry on top would be to become a predictive analysis expert. With BI skills thrown in for good measure, this progression can seal your deal as a professional who is extremely critical to companies' profits and future. However, if you decide to stick with databases, you can always grow your career as an ETL developer, wherewith every project, you become more and more valuable to your company. After all, data never ceases to grow.
For those who seek to build careers around Business Intelligence but want to keep away from Data Warehousing, there are two logical career paths – one, the functional side of things where you can be involved in measuring different metrics, and two, the technical side, where you can actually build tools for better tracking.
Edureka has a specially curated course on Data Warehousing and Business Intelligence. This course is aimed to help you become an expert in DW and BI techniques and covers concepts ranging from DW Architecture, Data Modeling, Fundamentals of ETL programming, Business Reporting, Data Visualization, among others. New batches are starting soon; or enrolling with our data warehousing course or Business Intelligence Course will help you mine that data and enhance the decision-making processes throughout your organization.
Got a question for us? Mention them in the comment section and we will get back to you.