Cybersecurity Tools
Threats are constantly evolving and, just like everything else, tend to follow certain trends. The best defenses need to mirror those trends so users get the most robust protection against the newest wave of threats. Hence, I decided to write up a blog on Cybersecurity tools that have stood still through thick and thin against various kinds of cyber-attacks. Since there is a multitude of tools spread out across the various domains of cybersecurity, we are going to talk about one tool from each domain.
So let's begin without wasting much time. Below is the list of tools that will be discussed in this blog:
BluVector

BluVector – Cybersecurity Tools – Edureka
A possible solution to the recent surge or attacks that use creative new techniques is to task computers and machines with the responsibility of smartly protecting themselves. If a software could be programmed to think for itself like a security analyst, then it could possibly counter malware at machine speed.
The BluVector defense does exactly that.
Offers advanced detection and response, and even threat hunting, all performed at machine speeds.

It has deep machine learning capabilities which enable it to get smarter over time. It will learn the intricacies of each network that it is deployed in,

BluVector also tweaks network algorithms and detection engines in a way that makes the most sense for the environment.
Bricata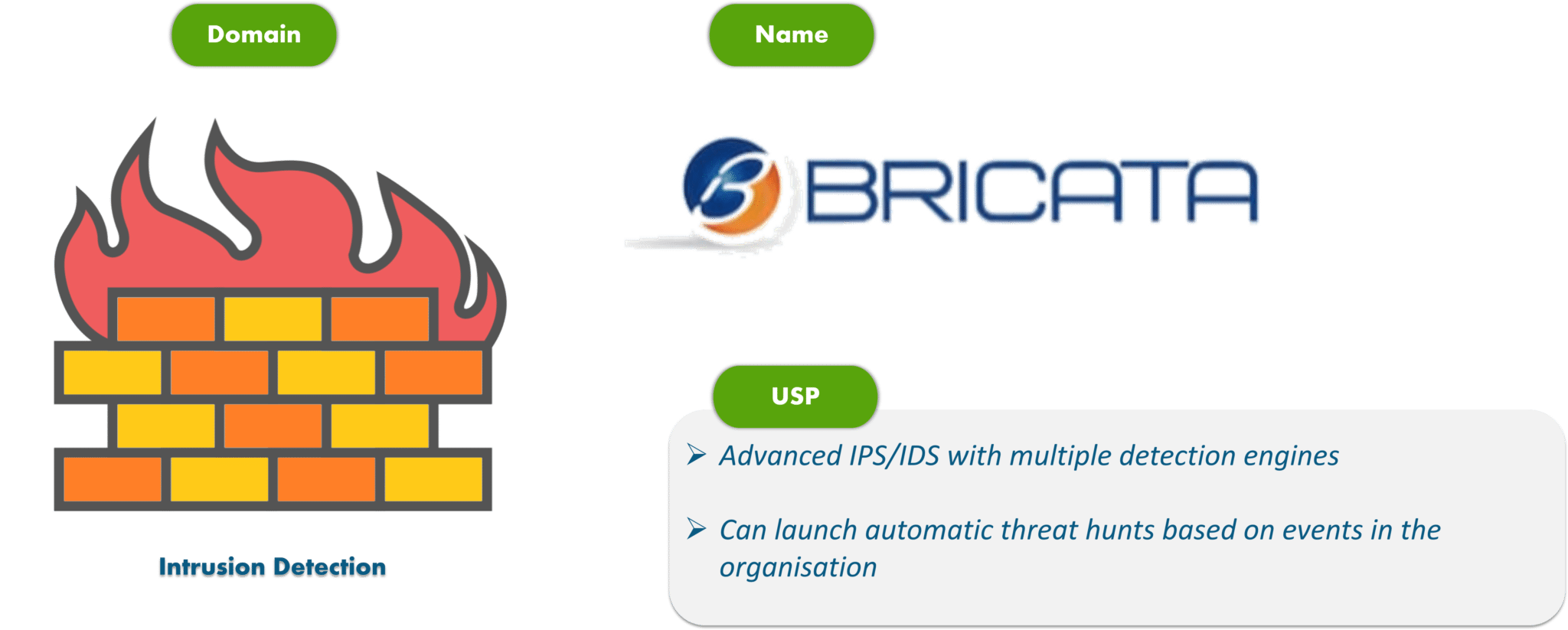 Bricata – Cybersecurity Tools – Edureka
These days, even the most basic cybersecurity defenses for any medium to large enterprise will include an intrusion prevention system/intrusion detection system. Even by itself, a well-tuned IPS/IDS system that is constantly monitored by security teams will catch most network problems and security breaches. However, the fact that many organizations stop there has led to an uprise in successful attacks designed specifically to operate in IDS blind spots.
This is where the Bricata platform can come into play. At its core, Bricata offers,
Advanced IPS/IDS protection with multiple detection engines and threat feeds to defend network traffic and core assets.

Ability to launch threat hunts based on unusual events. This would enable an organization to begin network-level threat hunting using the same staff and tools they are already using for IPS monitoring.
It would be a good step in the right direction towards better protection without the pain of installing additional programs or re-training staff.
Take charge of your cybersecurity career with CISSP Course.
Cloud Defender by Alert Logic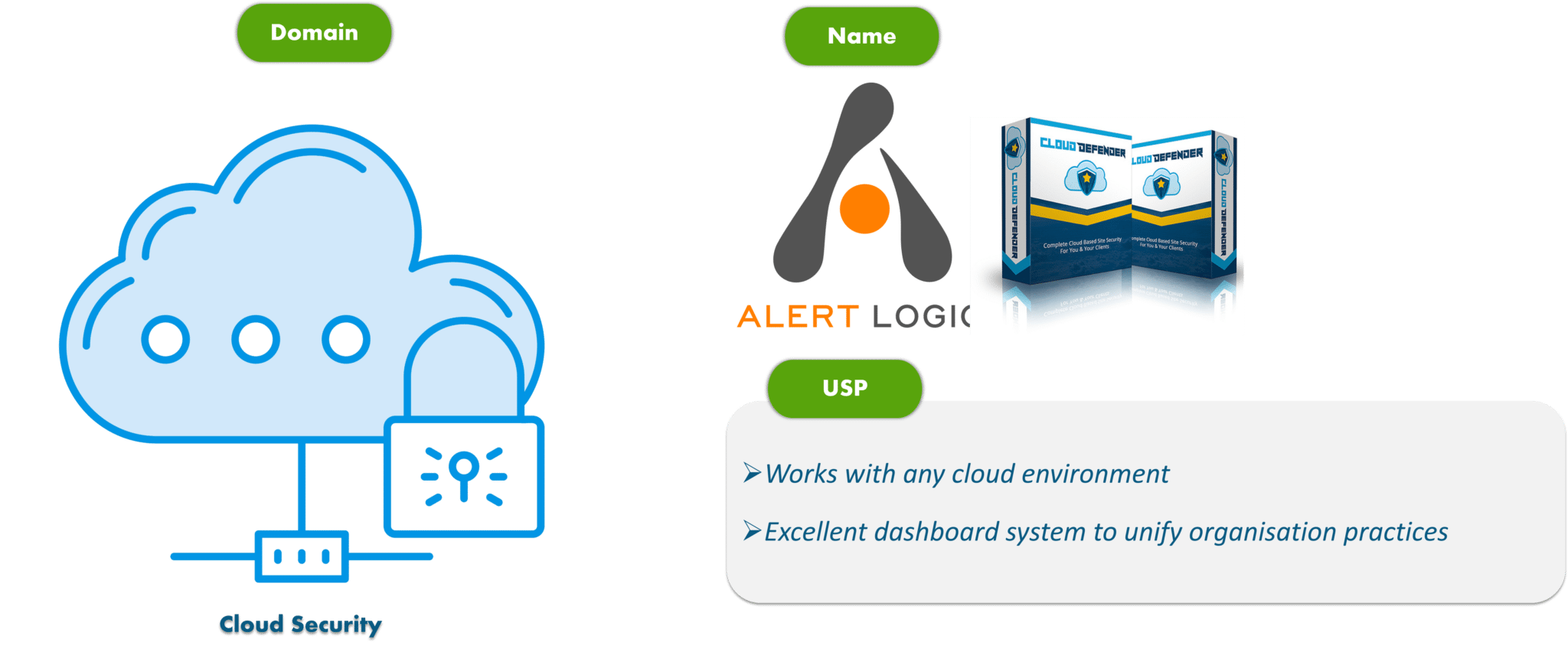 Cloud Defender – Cybersecurity Tools – Edureka
Compared to traditional server and client architectures, cloud computing is the new kid on the block. And while cybersecurity best practices are similar within a cloud environment, many of the vulnerabilities and specific threats that target the cloud are different. As such, even organizations with deep cybersecurity teams may need a little help when moving large chunks of their computing infrastructure to the cloud.
That is the idea behind Cloud Defender from Alert Logic. Designed from the ground up as a way to provide protection to web applications, critical data and everything else running or stored within an organization's cloud, there is a whole sliding scale of support available.
Cloud Defender is a user-friendly tool that would enable local IT staff to inspect their cloud deployments to look for evidence of hidden threats or breaches.

Above that, the 200-person cybersecurity team at Alert Logic can take over most cloud-based cybersecurity functions in a software as a service (SaaS) model.
Cybersecurity Tools | Popular Tools for Cybersecurity Threats | Cybersecurity Training | Edureka
Cofense Triage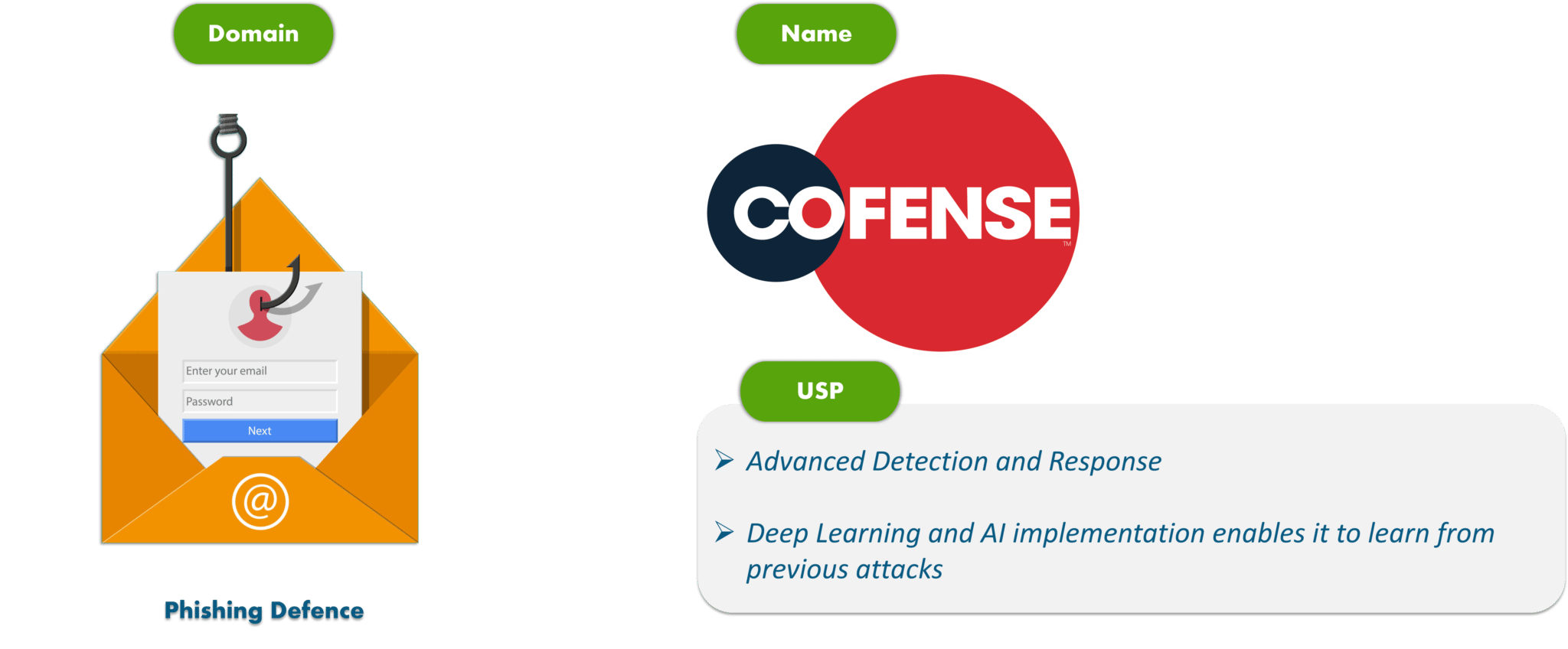 Cofense Triage – Cybersecurity Tools – Edureka
One of the most popular — and quickest — ways for attackers to enter a network these days is to trick a user into taking an action, whether installing malware or providing their login credentials. And if they pretended to be a company official, a business partner, or a family friend, their chance of success skyrockets. Despite the danger, phishing poses, most organizations have little or no defense against them.
As an organization, PhishMe (which was the name of the company when it was released) has moved its focus away from pure education into threat remediation. The company name has been changed from PhishMe to Cofense, which is a combination of collaborative and defense. One of the first Cofense-branded products, Triage, takes e-mails reported by users as suspected phishing and helps to manage responses. In one sense, the Cofense product helps to make users more adept at spotting phishing scams, while Triage creates a way for organizations to tap into the newfound skillset that employees should have learned.
Explore various domains of Cybersecurity through this Cyber Security Internship, including Network Security, Cryptography and Web Application Hacking.
Find out our Cyber Security Course in Top Cities
Contrast Security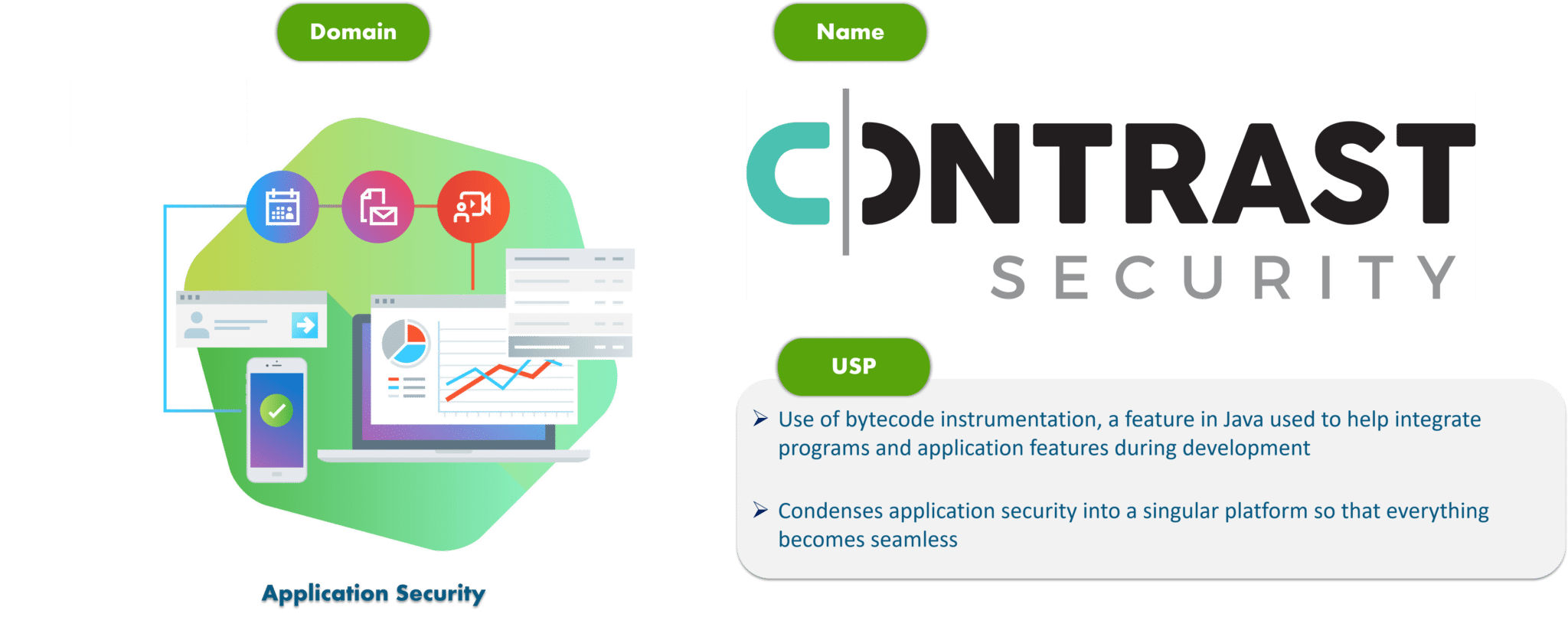 Contrast Security – Cybersecurity Tools – Edureka
The Contrast Security suite aims to change application security trends in two important ways.
First, it takes one critical aspect of cybersecurity today, application security, and condenses it into a single program that can protect apps from the time development first begins all the way through deployment and their full lifecycle.

Second, because Contrast Security embeds agents inside each app that it is protecting, essentially becoming a part of the program, there is almost no chance of false positives.

In fact, it scored a rare 100 percent on the OWASP Security Benchmark, passing over 2,000 tests without generating any false positives.
Digital Guardian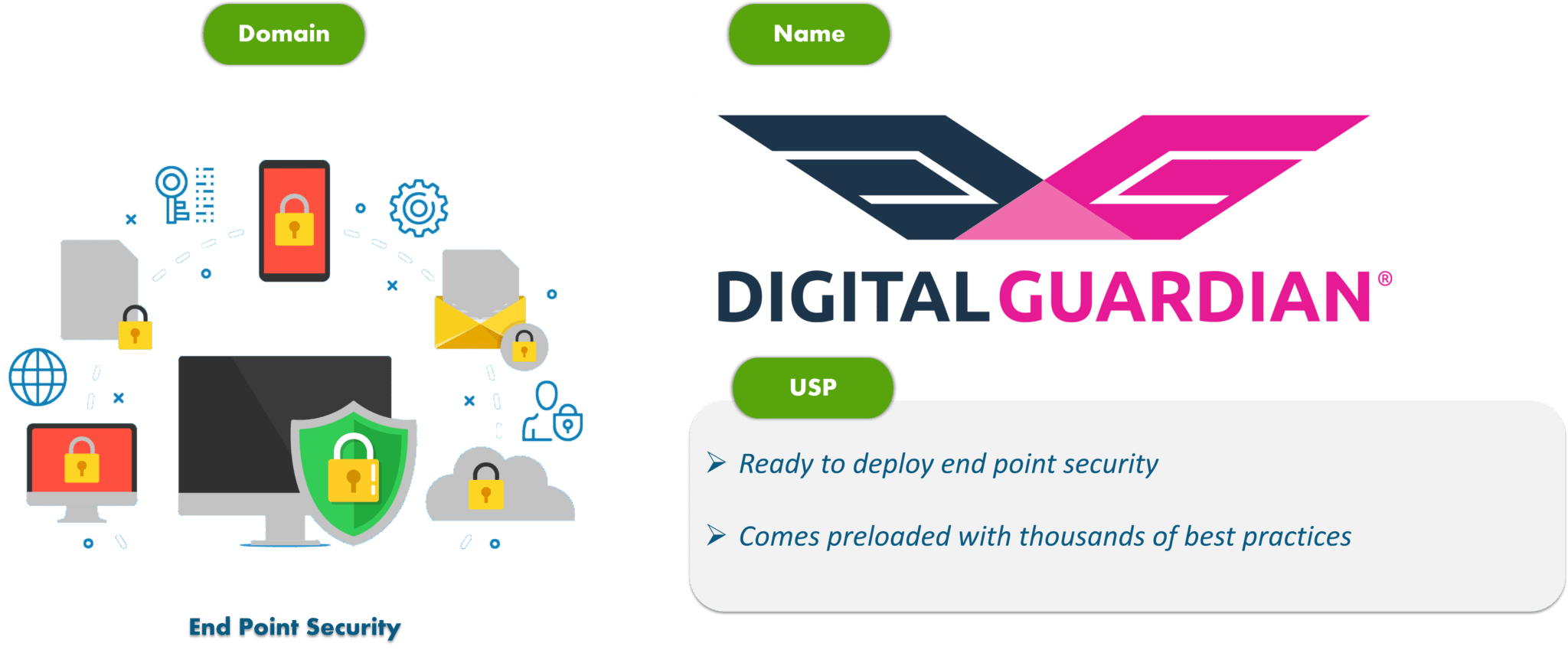 Digital Guardian – Cybersecurity Tools – Edureka
With most endpoint security programs, protection is delivered through the creation of rules. Behavior that breaks the rules of the network is considered suspect and is blocked, flagged or otherwise becomes the subject of a security alert. One of the biggest problems with this method is that security is only as good as the ruleset. Administrators either must carefully craft rules based on their own expertise or set a protection program into a learning mode for several weeks or months while it discovers good network behavior and crafts rules restricting everything else.
The Digital Guardian platform, by contrast,
Comes ready to use, pre-loaded with thousands of best practice rules based on years of experience working in the field

After a quick data discovery process, those rules are tailored to the specific network that it is protecting

This is all done nearly instantaneously so that when agents are deployed, they can immediately begin protecting endpoints with good security policies
Mantix4

Mantix4 – Cybersecurity Tools – Edureka
Given the insidious nature of advanced threats, it's almost a certainty that every organization of any size will eventually be hacked or compromised, regardless of what or how many cybersecurity defenses are in place. In response, the somewhat new concept of threat hunting is becoming an increasingly important part of cybersecurity defenses.
The Mantix4 platform seeks to solve the people problem.
While the program provides robust threat hunting tools for use by clients

The company also employs a team of experts to hunt on their behalf

It takes threat hunting into the software as a service (SaaS) realm.
SecBI

SecBI – Cybersecurity Tools – Edureka
Network Traffic Analysis tools have been used for a long time to help improve efficiencies in enterprise networks, locating unused capacity and bandwidth, and eliminating chokepoints. It has recently been employed as an arm of cybersecurity too. The communications between the internal threat malware and its controllers on the outside are captured by traffic analysis tools.
Find out our Cyber Security Training in Top Cities/Countries
SecBI has fielded new Traffic analysis software that aims to eliminate two problems:
Volume processing of data for actionable threat intelligence

Reliance on network trapping hardware
They have done this by deploying their analyzer as a software module capable of running on-premises or in the cloud. It only looks at log files, so there is no need for any network traps, agents on the clients or anything beyond access to the constantly generated log files. It then crunches those billions of events in the log using finely-tuned algorithms that look for patterns associated with an ongoing attack or an advanced persistent threat (APT).
You can take a look at our newly launched course on CompTIA Security+ Training Course which is a first-of-a-kind official partnership between Edureka & CompTIA Security+. It offers you a chance to earn a global certification that focuses on core cybersecurity skills which are indispensable for security and network administrators.
Check out our new Ethical Hacking Course Online to learn the in-depth concepts of ethical hacking and get skilled.
If you wish to learn Cybersecurity and build a colorful career in cybersecurity, then check out our Cyber Security Certification Course which comes with instructor-led live training and real-life project experience. This training will help you understand Blockchain in depth and help you achieve your goals and become Cyber Security Masters Program.
Got a question for us? Please mention it in the comments section and we will get back to you or join our Cyber Security Training in Liverpool today.