Technology and career trends usually determine the way a year is shaped for the IT industry. These trends can seem both elusive and temporary, but they become integral to business and IT strategies, building the backbone of tomorrow's technology innovations. Few businesses sense a threat out of the latest technology trends, while some count on them to lead in their respective industries. Whatever the case may be, the change brought by technologies is imminent.
In 2018, many technologies hit the global market. Some were embraced while some waited for the dust to settle down. But 2019 is the time to take it up a notch. This is the year when companies are exhibiting an eagerness to unfold the potentials of technologies. 2019 is also expected to witness huge investments in market disruptors. It is going to be a significant year technology-wise, since a lot of big brands are looking to grow their ranks. As a result, the demand for futuristic technologies like Artificial Intelligence, Blockchain, RPA, etc. are predicted to hit the records.
Ironically, this positive job outlook is being overlooked with a rearing skill gap in the technologies that are predicted to lead job creation in the coming years. The emerging technology jobs lie vacant while a majority of applicants are knocking on employers' doors with a desire to bag their dream jobs. There is an urgent need to mend this skill gap with Up-skilling. Up-skilling with futuristic technologies is no longer a choice. Tech professionals need to up-skill 15-20 times if they wish to stay relevant in today's competitive and ever-evolving IT industry.
So, what do these career trends show?
A number of career portals announced survey results listing the most popular technologies of 2019. We decided to test the sentiment on the ground and asked technology professionals which job titles they aspire to land in the future. Around 500 technology professionals answered our survey, and based on the results, here is an Infographic illustrating the technologies that are attracting attention in 2019. The survey results also show that professionals want to upgrade to in-demand technology careers to improve the quality of their work, get promoted and bag a bigger paycheck.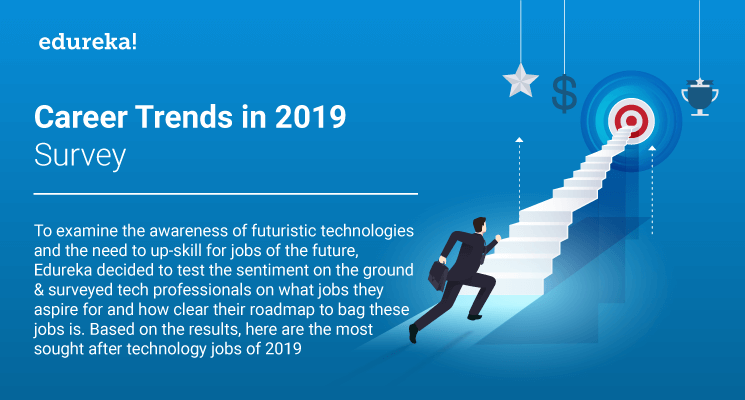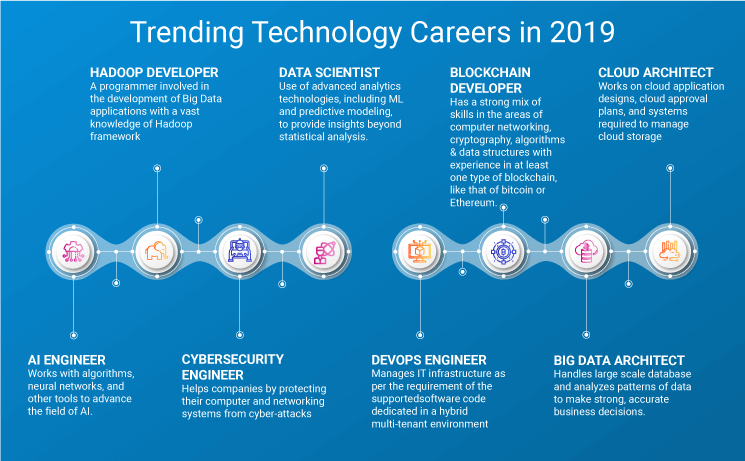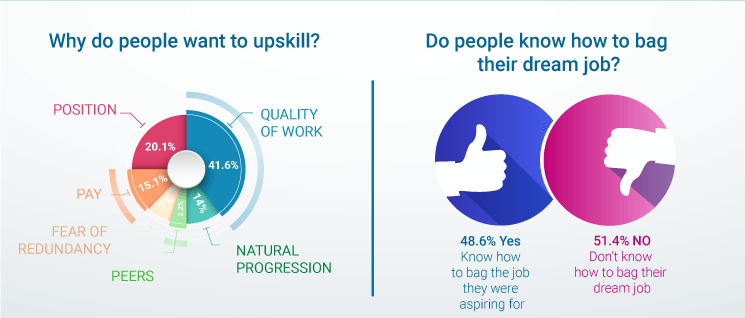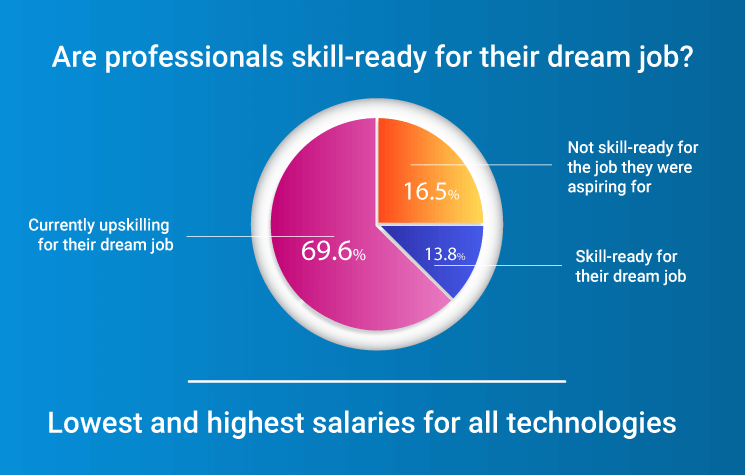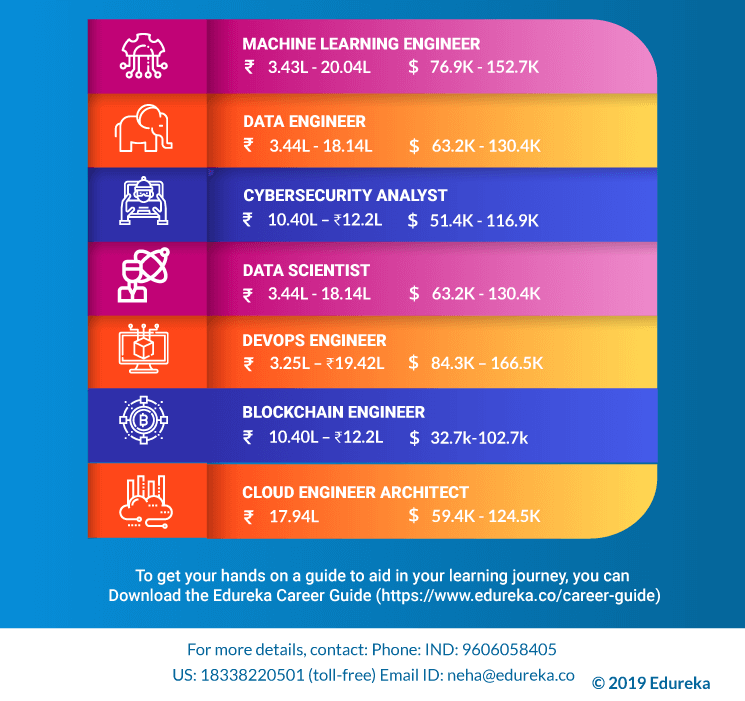 You can download the complete infographic here: IT Career Path Guide
The results for "Are professionals ready for their dream job?" clearly depict that there is a looming gap between the current skill set of IT professionals and industry demands. The Edureka Tech Career Guide 2019 aims to bridge this skill gap by providing technology professionals customized learning paths for in-demand technologies. The guide lists cutting-edge technologies that are leading job creation in 2019 and also shares the exact learning path that can be followed to bag your dream jobs. The career guide also touches upon industry outlook, job trends, salaries, and learning hours for these technologies in addition to sharing findings of a survey on the most-sought-after technology jobs this year.
We have spent months to create this career guide which we hope will help you bag your dream jobs. This guide is a build-up of expertise of our subject-matter experts, career counsellors, and our in-house knowledge and research.
Edureka believes that the expert-curated information in this career-guide will go a long way in helping you up-skill in a planned way. So, get your hands on the Edureka Tech Career Guide today!