Reporting and analysis of data using data warehousing has been around for more than a decade, but of late, enterprises are finding the need to retrieve actionable insights from data. Quality of data has never been more important! Today, enterprises are investing heavily on effective data warehousing solutions that help them make sense of their own data, especially customer-centric data that have a direct bearing on business. This is how plenty of opportunities have opened up for career progression with Informatica. Consequently, there has never been a better time to embark on your career progression with Informatica.
In a recent interview with Information Week, the new CEO of leading data warehousing and ETL giant, Informatica, Anil Chakravarthy mentioned that in 2016, the company is focusing its energies on six technologies; big data, cloud, data integration, master data management, data quality, and data security. Having figured out how to combine the cloud with big data, Informatica is now betting big on providing actionable insights around big data to enterprises worldwide. Informatica claims almost 100% go-live rates, which is unheard of in the IT industry. Add to it the fact that Informatica tools also enjoy a 94% customer loyalty rate, there is no doubt that Informatica is all set to redefine ETL and data warehousing.
This has opened up newer career opportunities and has given birth to more job roles around ETL, data processing and warehousing with Informatica. In this blog post, we will discuss how you can achieve career progression with Informatica.
Pre-Requisites for Informatica
The pre-requisites to learn Informatica include knowledge of SQL, especially functions, joins, sub queries etc.
While any fresher can learn Informatica, knowledge of ETL, SQL and Data Warehousing Concepts will be helpful. Also, knowledge of Data Storage systems / applications is good to have although not mandatory as Informatica Powercenter is an application that is used to extract / load data from/to data storage systems such as RDBMS, BigData, CRMs, Social Media, Webservices, Flat Files, etc.
Who can switch to Informatica?
Although any professional who is passionate about data integration can switch careers to Informatica, the most common job profiles to opt for Informatica careers are:
2. Analytics Professionals
3. BI/ETL/DW Professionals
4. Mainframe developers and Architects
5. Individual Contributors in the field of Enterprise Business Intelligence
Informatica Job Roles
The most popular Informatica tools are Informatica PowerCenter, Informatica Power Exchange and Informatica Reporting Services. Informatica PowerCenter is the most widely used ETL Tool today. With its ability around efficient data partitioning, parallel processing, innovative caching techniques and bulk extraction, Informatica PowerCenter is being adopted by enterprises across all business domains.
Some of the most popular Informatica job profiles are:
Informatica developer

Analyst

Informatica Consultant

MDM developer

Informatica Administrator

Informatica Application Developer

PM
Career Progression with Informatica
As a beginner, you can expect to get hired as an Informatica ETL Developer in the entry level and then work your way up to become a Senior/ Lead Developer.
After 7-10 years of experience, you can progress to the job role of Informatica Admin or Informatica Architect. Other BI and Data Warehouse skills could also give you an added advantage and help you become an ETL Architect or BI/Data Architect.
Informatica Job Profiles
According to JobGraphs.com, 37.3% of Informatica jobs are for the Developer position although there is an equal opportunity for Analysts, Architects and Consultants as well. The base salaries for each of these titles has been steadily growing over the last few months, and the upward spike is only likely to continue in the weeks to follow. According to ITJobsWatch, Informatica Developer jobs have gained 24 points between November 2015 and February 2016 to become one of the hottest jobs in the Data Warehousing domain.
Here's a Google Trends report that captures the growing popularity of Informatica Developer job profile.


Source: Google Trends
Informatica tool is used for much more than ETL and this is reflected in the fact that there are more than 100,000 trained Informatica Developers and a demand for an equal or more skilled workforce to join this domain. It is one of the most pervasive skill sets available in IT as most leading organizations depend on Informatica to curate data for application and analytical environments.
Informatica Salary
Reflecting the growing opportunities for professional with Informatica skills, the salaries for Informatica jobs is also seeing an upward trend. A quick research on Indeed.com shows that the average salary for Informatica Developers in the United States is $102,000, varying with experience.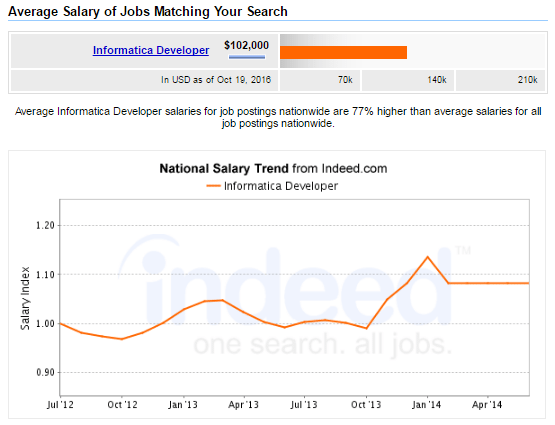 In fact, the salaries also vary with job titles and skill levels in addition to number of years of experience. Here's a graph that shows salaries with job titles.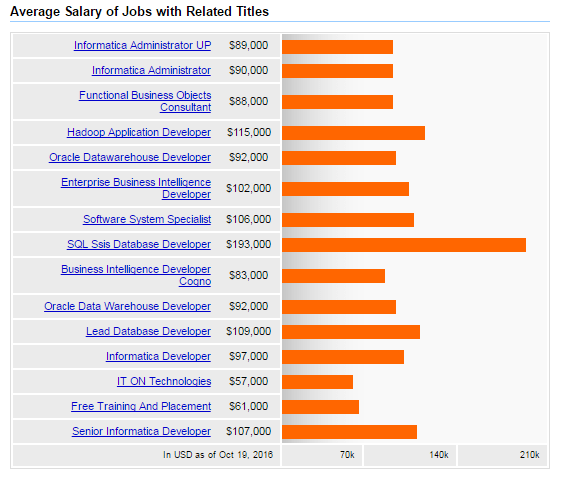 Source: Indeed.com
This trend is reflected in India too where the median salary for Informatica Developers at the beginner level is Rs. 4,10, 230 as reported by Payscale.com. The salaries vary with number of years of experience and job titles.

Source: Payscale.com
In the United Kingdom too the median salary for Informatica jobs is upward of £55,000. Here's a graph that shows this trend.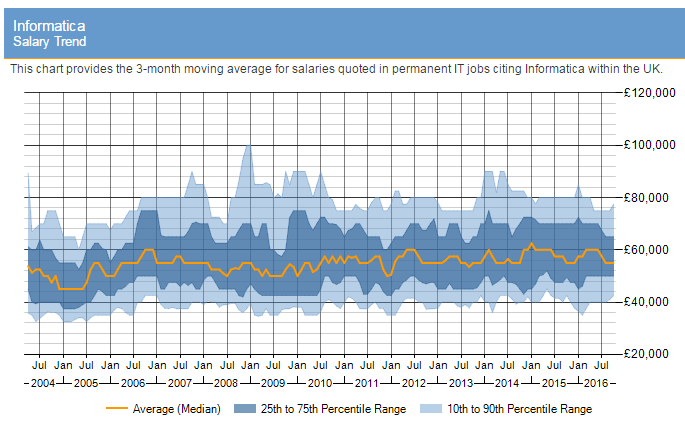 Source: itjobswatch.co.uk
A lot of global financial conglomerates, and other large multinationals have invested in Informatica tools and are leveraging from more meaningful and business-relevant data. Some of these companies include Western Union, Allianz, ING, Siemens, Asian Paints, EMC and Samsung among others. As footprints of these companies expands to India and other countries in the world, job opportunities are burgeoning, with an acute need for trained personnel in Informatica tools.
Edureka has a specially curated course to help you ace both developer and admin functions of Informatica tools. The training will make you a master in ETL and data mining using Informatica PowerCenter Designer. The course covers Informatica development techniques, error handling, data migration, performance tuning and more. New batches are coming up; so check out the Informatica Training here.
Got a question for us? Please mention it in the comments section and we will get back to you.
Related Posts:
Get Started with Informatica PowerCenter 9.X Developer & Admin
Top Informatica Interview Questions
What is Informatica: Beginner's Guide to Informatica PowerCenter