Customer expectations from companies are increasing day by day. Many new-generation businesses use digital technology to improve their performance and customer satisfaction. It has also led buyers to expect the same kind of experience from other companies. There is pressure on management to transform their companies into digital ones. The process helps the company earn higher revenue and also improves customer loyalty. It is worth understanding that digital gadgets don't make a company a digital organisation. Attending a business management program online focusing on digitisation can help complete the transformation successfully.
The Advanced Executive Certificate In Business Management In Digital Era is a course that can guide you in transforming the company into a digital firm. More details about this course are available on our website.
What Is Digital Business?
Before we go into the process of transforming your company into a digital business, let us understand what it is. People may misunderstand the term and think that all companies are digital because everyone uses various technologies. It is especially true when working from home is still prevalent. A digital business continuously uses the latest technology for its growth and development. The technology used may vary with companies and industries. You will learn more about this in your business management program online.
Generally, these companies use technologies like productivity apps and task management systems to make their processes automatic. It helps save valuable human workforce that can be used for more creative tasks. They use AI to improve customer experience and gather data to arrive at valuable insights. Many online companies use only digital platforms for all their work. Using a few apps and software programmes doesn't make a company digital. It is a process where operations are completely transformed into a business model focused on technology. The business management programs online teach you how to achieve this.
Components Of A Digital Business
Artificial Intelligence
As it is popularly known, AI is an indispensable component in organisations using digital methods. This technology helps companies stay ahead of the competition by making accurate forecasts, predicting market changes and knowing customer requirements. AI helps companies know why certain events occur and arrive at the best solution for every problem.
Digital Engineering – This technology enables companies to transform customer journeys. It also drives rapid innovation that results in new products. Companies can launch industry-first technologies that will go beyond customer expectations.
Digital Strategy – With the increased use of digital tools, there is pressure from customers to deliver digital-ready products. Companies must also make their services suitable for a digital environment. Such changes require a strategy that covers the front, middle and back office IT environments.
Internet Of Things – IoT enables companies to develop smart products and services. With the launch of 5G technology, IoT will likely touch every aspect of our lives. Organisations can connect products, operations and the company, creating actionable intelligence. It results in increased efficiency, better productivity and innovative products.
Steps To Create A Digital Business
Setting up a digital business takes time and the involvement of everyone in the organisation. The business management program online teaches you the different steps that one must follow to create a digital business.
Creating The Right Mindset
What is most important in creating a digital business is to have the right mindset. Everyone from top to bottom must know it is not just using digital tools. Digital technology is not just a tool to make your work easier or faster. It will be the source of innovation and opportunities for what the firm can achieve. A proactive model aims at creative disruption and innovative business processes to move ahead of the competition in the market. The business management program online teaches that transformation helps exploit even the smallest opportunities.
Place Suitable Leaders In The Right Place
No transformation can be successful if the leaders don't show by example. Most problems in digital transformation occur due to the slow speed at which it is accomplished. You must have the right people to guide the change. Ideally, three leaders should be in place for the transformation to be smooth and fast. There must be a digital strategist, a digital marketing leader and a digital business unit leader. In most companies, the same person handles all three roles. If the person can handle all the roles, then it causes no problem.
Digital Centres Of Excellence
Having digital centres of excellence is crucial for successfully implementing the digitisation programme. They act as the source of input, guidance and opportunities for forming the digital strategy and the skills needed for its implementation. Start by looking for digital opportunities and assessing the company's strengths and weaknesses. You must also look at potential opportunities and new technologies that might pose a threat. These centres of excellence must have people from all departments. A good business management program online can teach you how to create these centres.
Elements Of The Digital Strategy
Once people understand the need for digital strategy, some elements must be addressed. Firstly, it is essential to develop new digitally enabled business models. There must be a digital portfolio of products and services that doesn't necessarily have a physical backup. It is necessary to establish information as an asset while keeping in mind customers' legal requirements and ethical concerns. There must be an effective technology strategy and identification of media and channels for marketing content. The business management program online is the ideal course to learn about all this.
Define Digital Roles
Digital transformation doesn't just involve technology. The active participation of people is required to implement this successfully. It is essential to define digital roles and their responsibilities. The HR department must transform its policies to include suitable roles supporting the digitisation process. There must be better access for people with skills in digital technology. The organisation must also remove processes that act as bottlenecks to the transformation. One can learn about the different roles by enrolling on the business management program online offered by reputed institutions.
You will learn all these steps in detail in the Advanced Executive Certificate Course In Business Management In Digital Era offered by reputed institutions. You can find more details about this course on our website.
Also Read: Top IIM MBA for Working Professionals in 2023: Choose the Right MBA
Concepts That Guide Digital Transformation
Flexibility
The world is changing rapidly, necessitating that companies be flexible to adapt to any change. The pandemic taught us a valuable lesson that people could work from home and then shift to the office without causing any major disruption to work. The business management program online focusing on digital transformation teaches you that flexibility is an important concept that guides the process. Going digital allows organisations to change quickly as they don't carry the weight of manual processes.
Scalability
It is another requirement that all companies have. They must be able to scale up and down various components in the firm with changing market conditions. Digitisation allows companies to quickly onboard new employees when the company is growing rapidly. In the same way, digital technology allows firms to increase data storage capacities quickly as they acquire more large clients.
Culture
All organisations have a culture, and it is not easy to change that. When the firm is implementing digital transformation, it should start changing how it thinks. It means that the culture should change to accept digitisation. The management must train the staff to think differently and adapt to the digital environment. The leaders of the transformation must bring in a philosophy of productivity, efficiency and automation. They must ensure that it percolates down to employees at every level. A business management program online is the best place to learn how to implement this culture change.
Quality
Transforming for the sake of including digital processes is no good. It should ensure that there is a change in quality throughout the organisation. One cannot forgo the quality of work, products or services just for the sake of implementing a digital strategy. Adopting innovation for the sake of it doesn't do any good to the organisation, and the whole exercise is bound to be a waste of time and effort.
Benefits Of Digitising Your Business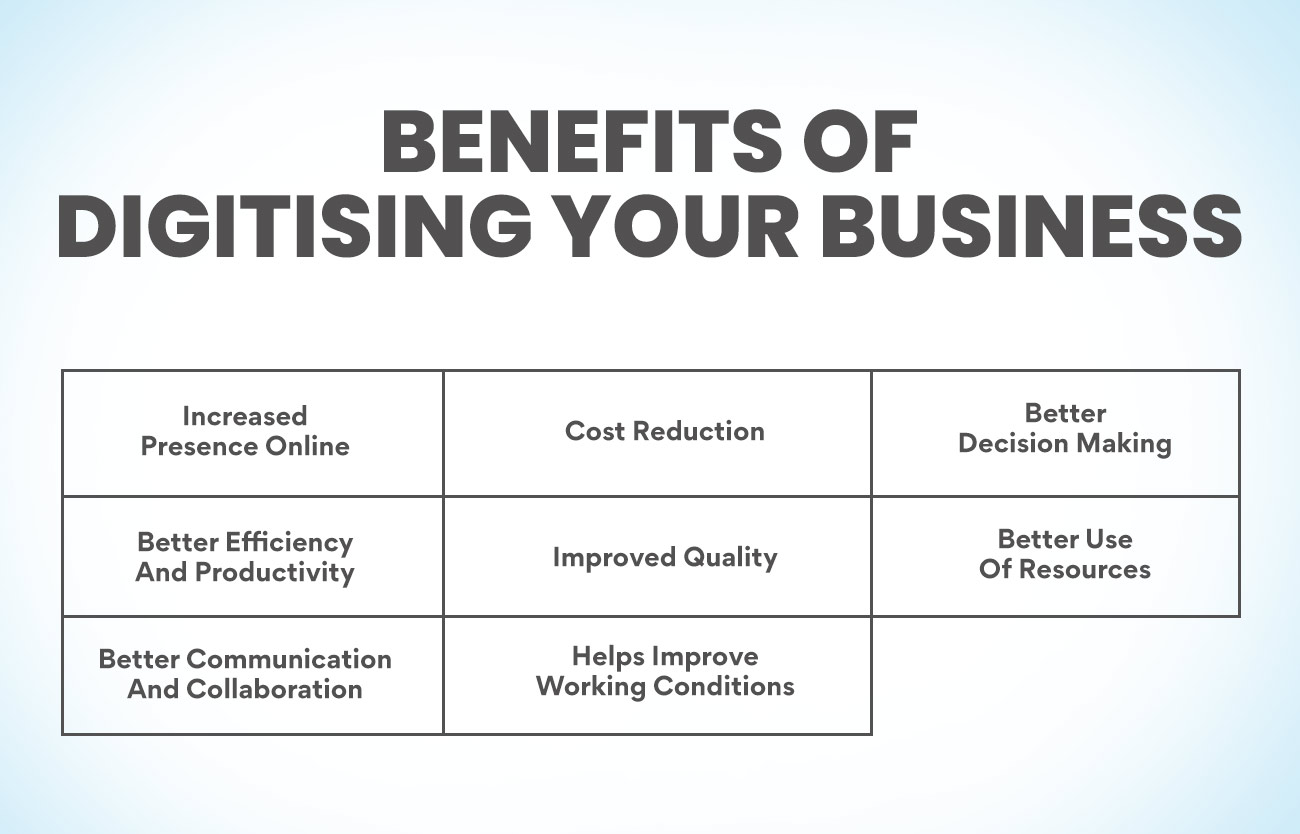 Increased Presence Online
One of the biggest advantages of digitisation is your improved online presence. It is the benefit that everyone can see. Companies cannot grow and develop unless they are strong in their online presence. Digitisation helps to improve this quickly and improves the visibility of the company. As more people search the internet for their needs, companies need to be visible where their customers are active. Online stores, blogs and corporate pages help to spread awareness about the company and its products to more customers. One can learn digital marketing in the business management program online.
Cost Reduction
Next to improved presence online, the topmost advantage that companies gain from digitisation is cost reduction. The process helps to get rid of many manual processes that involve multiple employees. Using employees for other creative tasks helps the company save a lot of money. Digitisation also improves efficiency on all fronts. It will reduce a lot of waste and hence saves money. Better decision-making is an advantage of using digital technology. Such wise decisions help to reduce costs on various fronts. In the business management program online, you will learn about cost reduction due to digitisation.
Better Decision Making
Digital technology helps companies make better decisions. Organisations can gather and use data using this technology. Analysing available data helps to find various insights that tell the company the reasons for many events. It helps them avoid errors and make better decisions for the future. Data from the market helps the company understand the behaviour of customers. They are also able to forecast future demand. It helps the company make better decisions with regard to inventory and production. The business management program online also teaches you how data can be used to make better marketing decisions.
Better Efficiency And Productivity
Removing old manual processes that were slow and inaccurate helps the company improve the efficiency of various processes. Digitisation reduces the interference of humans in various processes. This reduces errors and improves efficiency. The use of data also helps to improve the efficiency of various processes by looking at past events. With intelligent digital tools, employees can complete their tasks more quickly. This improves their productivity and saves the company a lot of expenses. One can learn about various digital tools in the business management program online and see how they help improve staff productivity.
Improved Quality
Quality is a deciding factor for customers. All buyers look at the quality of products and services offered by the company before deciding on their purchase. Digitisation helps to improve product quality with product lifecycle management tools. A better quality will certainly attract more customers and improve profits for the organisation. Digital tools are also helping companies improve the quality of their service. They are able to attend to customer complaints faster and can keep in regular touch with them. The business management program online teaches the use of various tools for better customer service.
Better Use Of Resources
Resources are always scarce in most companies. Whether it is money, men or machinery, companies have to use the same resources for multiple purposes. This requires very careful planning, failing which many tasks will not be completed. One of the resources that are expensive and in scarcity is the human workforce. Digitisation helps to reduce the use of humans in various tasks. This allows the company to use them for better purposes. Many organisations save money by using on-demand services and as-as-service platforms. The business management program online teaches the use of technology to use resources optimally.
Better Communication And Collaboration
Internal communication and collaboration are crucial to a company's growth and development. All departments must coordinate with each other to achieve organisational goals. Digital technology helps greatly in improving communication. This is so both within the company and with entities outside the firm. Better communication leads to better efficiency and faster completion of tasks. At the business management program online, one can also learn about how various collaborative tools are helping teams coordinate with each other and work in a more organised manner. Such digital tools help the management remain updated with the progress of various projects.
Helps Improve Working Conditions
We all know how digital technology helped companies implement work-from-home methods during the pandemic. It helped employees to remain safe from exposure to the disease while also ensuring that work doesn't suffer. New requirements of employees, such as flexible working hours, are possible with digital technology. New recruits appreciate such facilities, and this helps the company employ good hands from the market. Providing such facilities also helps in retaining employees. The business management program online stresses the need for digitisation of the workplace to improve conditions for the employees and the company to reduce employee turnover.
Also Read: What are IIM Courses for Working Professionals? How to Choose One?
Necessary Skills For Digitisation Of Business
Digital Literacy
One may wonder if we need to stress this fundamental skill. It may come as a surprise that a good percentage of employees are not digitally literate. They may be able to use email or social media. But many of them don't know how to use collaborative tools. Employees must know how to analyse performance and see where they need to improve. It is also essential that staff members are familiar with online meeting and video conferencing applications. The business management program online teaches the use of various collaborative tools.
Digital Security
Security is a big topic nowadays as more companies become victims of cybercrimes. Company employees must know how to protect the company assets from attacks. They must also understand the importance of digital security and their part in it. It is good for the company to enlighten staff members about keeping customer data secure. It is one of the biggest threats to companies that handle the information collected from a lot of their customers. Healthcare and insurance are the industries that are hit worst by cyber crimes. You can learn more about this topic on the business management program online conducted by reputed institutions.
Digital Marketing
This is a skill that you cannot ignore in these modern times. Though other traditional means of marketing are still popular, there is a growing number of people who only respond to online promotions. Having a strong online presence is an economical way to get new leads. More people depend on search engines to find their products. The popularity of social media is increasing day by day. Companies must make use of this versatile channel to engage with customers and convey their messages. One can learn a lot about digital marketing in the business management program online.
The Advanced Executive Certificate Course In Business Management In Digital Era is an excellent programme to learn all about digital business. You can find more details about the course on our website.
Summing Up
Nobody can escape the impact of modern technology on business. Digital technology is growing at a pace that is difficult to match. The faster companies adopt this technology is better for them. Using it can help organisations in many ways and help them surge ahead of the competition. As more companies use this technology, there is a demand for those proficient in digital business management. Acquiring this expertise can greatly improve your chances of getting a good job.
More Information:
Business Development Manager Salary In India 2023
Top 21 Effective Team Management Skills: Key To Become a Good Manager
Different Types of Change Management: A Complete Guide
Why Succession Planning Is Important & How To Strategize It?