Data. Isn't it all we're hearing about nowadays? Big Data and Data Science and the likes of it appearing everywhere on Google? But it comes with good reason. Business leaders of today, in every industry, have discovered how to use their data to its highest possible potential. So, the need for understanding different types of Business Intelligence Tools available today is more crucial than ever.
Learning Business intelligence has given enterprises of all sizes access to the power of Data Analysis. Receiving insights and finding trends is absolutely critical for businesses to scale and adapt as the years go on. This is exactly what business intelligence does and the best thing about these software solutions is that their potential uses are practically unlimited.
The flow of the article is as follows;
A Quick Note on Data Governance
Survey Results – What the BI Tool Buyer is Looking for
The Top Business Intelligence Tools Buyers Plan on Using

Tableau
Qlik
Microsoft Power BI
Sisense
SAS Business Intelligence

Conclusion
A Quick Note on Data Governance
A successful BI strategy begins even before it is executed and more often than not, entails a good data governance policy. Cleansing data is essential before it is fed to your BI tool, as good data analytics is practically useless when performed on bad data. But a governance policy goes beyond just this.
Data Governance also involves securing the data. Levels of encryption, access policies and procedures, consequences for failing to adhere to policy – all of these things go into a solid data governance program. Upon that you can build a strong governance policy for your business intelligence systems.
Survey Results – What the BI Tool Buyer is Looking For
Representatives of over 600 businesses from a variety of industries were surveyed and recorded. Borrowing from the numbers, we've made a list of the features BI software purchasers are looking for. This shall provide you with data on the features most desired by those in the market for a business intelligence system.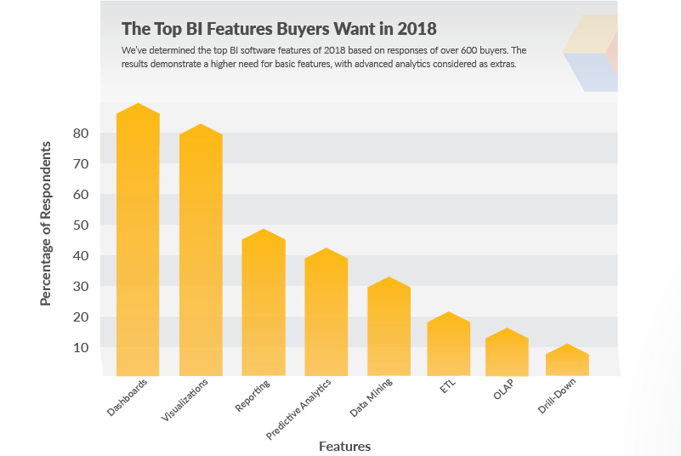 We can infer from the graph that the most sought after features from a BI software are the following;
Dashboards

Visualizations

Reporting

Predictive Analytics

Data Mining

ETL

OLAP

Drill-Down
Also, notice that advanced analytics were viewed as amenities and not necessities.**
The Top Business Intelligence Tools Buyers Plan on Using
You didn't obviously think we'd give you all this information and leave you without some recommendations, did you? If you're in need of business intelligence tools and services, these are some of our top recommended vendors.
Tableau
This 7-time leader of the Gartner Magic Quadrant continues to be one of the most popular Business Intelligence tools. Tableau is a commonly sought-after BI platform. It's easy enough that non-technical users can create customized dashboards and other reports to find valuable insights. In fact, Tableau is so popular that many people consider it the de facto.
Qlik
Among the best tools used in business intelligence is Qlik. With it's guided tool, QlikView, and self-service business intelligence tool, Qlik Sense, this powerful program offers fully interactive data operation. Now, this allows users to explore data at all times during input, processing and output.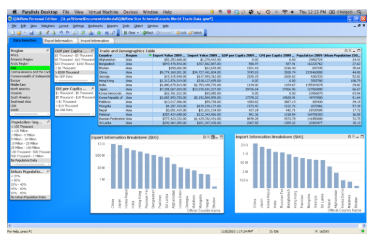 QlikView also offers a system memory function that displays every action taking place during analysis. It is an extremely powerful BI tool with a very solid performance report. It is available on mobile platforms, which provides the same interactive analytical tools, intuitive associative search and excellent visualization available on the palm of your hands.
Microsoft Power BI
Microsoft Power BI earned a top score on our leaderboard in several areas. This includes its interactive visualizations, predictive analytics, mobile access, the export of analytics reports, big data integration and storyboarding. Not to mention, it is the current leader in its category as per Gartner's Magic Quadrant of 2019. This solution is one of the more affordable options, including a limited free version in addition to their basic package.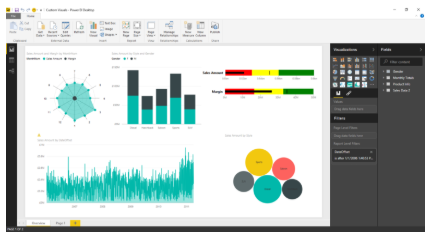 Sisense
The Sisense BI platform is the provider for one of the most popular and top-rated, all-in-one BI solutions. This service offers a user-friendly interface, powerful data visualization tools and interactive dashboards designed for quick and easy usage. Sisense also includes in-memory database tools and SQL server integration. Which basically means that no matter where your data is, you can analyze it.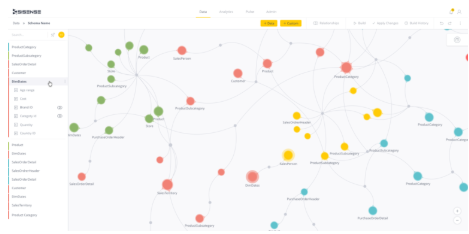 SAS Business Intelligence
If you wish to get simple answers from complex data analysis, SAS Business Intelligence is a keeper. With really fast processing and effective guided exploration, you get a clear picture of the information you need almost instantly and deploy the models into service faster without any headaches. You also learn to build better models with a simple features based on tested techniques.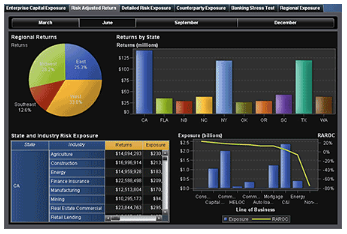 Conclusion
Business intelligence doesn't have to be scary. There is a variety of resources to educate and empower individuals and businesses alike. There are plenty of types of different Business Intelligence tools out there to explore and experiment with. The more educated the user base becomes, the more comprehensive and powerful the options will be. Business Intelligence is a versatile and powerful resource and has the potential to be useful to almost every industry.
If you wish to build a career in business intelligence, our Business Intelligence Course will help you mine that data and enhance the decision-making processes throughout your organization.