Business Administration Course: Business Administration is a subfield of Business & Management that teaches students how to administer a firm, oversee its success and development, and make critical choices. A course in business administration is an in-depth study of the field of business and its various branches. This training equips today's executives to make market-data-driven decisions. It is one of the most multidisciplinary academic programmes that combine theoretical concepts and knowledge from Economics, Finance, Human Resource Management, Information Management, Marketing, Accountancy, and other disciplines.
With an excellent Business Administration education, one may learn how to market products and services, understand performance data, maintain high efficiency, manage your company's financial health, keep staff engaged, and make powerful business choices that produce results. After finishing this degree, graduates can work in marketing, academia, finance, retail, and government. With a master's degree in this course, you have a good chance of landing one of the company's top roles. A degree in business administration translates to excellent pay, employment satisfaction, and rapid advancement. Many Indian institutions and colleges offer degrees in business administration. As a result, business administration is a good degree since it prepares students for high-paying occupations with guaranteed advancement.
Types of Business Administration Courses
Business Administration courses can be pursued through a Bachelor's in Business Administration (BBA) and a Master's in Business Administration (MBA). An aspirant interested in the field of business can pursue either or both of the two courses to gain knowledge in this field. We have put a detailed description of the two courses below –
Bachelor in Business Administration: Abbreviated as BBA, this bachelor's degree course in business administration is among the highly pursued options by students in the field of commerce and business. One is eligible to pursue right after higher secondary (Class 12) and can take entry into a BBA college through board examination results. This course will bring an understanding of subjects like marketing, finance, operations, business laws and principles, and many more. It is a three-year degree course that teaches basic management and entrepreneurial skills. The course is provided in more than 5000 colleges in India.
Masters in Business Administration: Known among the popular postgraduate degree courses worldwide, It is commonly called an MBA. The course brings insight into topics related to sales, marketing, operations and supply chain, strategic management, entrepreneurship, finance management and many more. One can pursue this course through a full-time two-year program or as a part-time course along with their job or through online mode.
Seven benefits of pursuing a career in Business Administration?
Business is critical to a country's economic prosperity. On the other hand, a business needs people to manage its affairs – from revenue to human resources, finances, operations, and consumers – to develop and expand. This is where a business administration course may help. If you want to establish a firm or manage a group of people in the organisation, a business administration degree may be a good fit for you. Aspirants who pursue a degree in business administration can hone their talents in mathematics, real-world problem-solving, and leadership. This course is frequently flexible and is a choice for hopefuls who wish to enter the business sector but are still determining where to focus their efforts. Let us discuss some of the major benefits of getting trained in this field: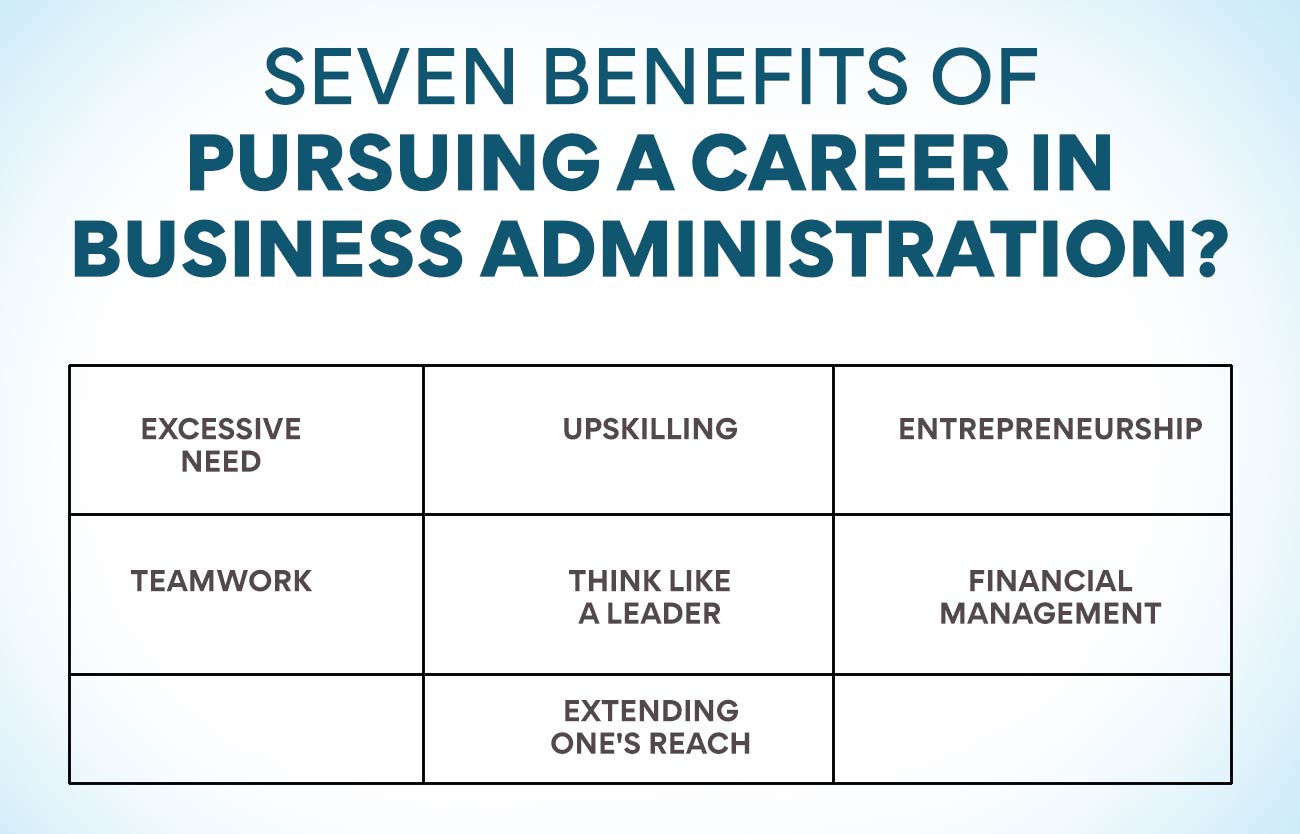 Excessive Need –

There is a strong demand for business administration specialists in today's ever-expanding global commercial marketplace. Companies of all sizes want employees like this on their teams. A degree allows you to work in accounting, finance, marketing, human resources, management, and others. After completing this course, you will have several job options. Aside from occupations, becoming an entrepreneur necessitates the abilities of a business administrator. These options, communication abilities, extra qualifications, and courses may result in remarkable professional success.

Upskilling –

Business administration teaches the art of managing small and large enterprises. These businesses need employees who are conversant with modern tools and have a strong desire to learn. Today's

business administration course

is centred on field advancements such as a deep understanding of competitive advantages across a wide range of business environments, effective decision-making, and designing effective solutions to modern work the place and organisational problems to help streamline communication across efficient workforces.

Entrepreneurship –

The information and abilities you gain while studying business administration equip you for many work opportunities. Aside from providing many employment options, studying business administration courses provides a person with the information and abilities necessary to establish their firm. Communication, financial acumen, marketing, decision-making, spotting company prospects, and management abilities all contribute to the beginning of an entrepreneurial journey.

Teamwork –

For a firm to flourish, the leader must collaborate with others to achieve common goals. No one can achieve in the job unless they can be part of a team. This is referred to as teamwork. Furthermore, one will gain experience working in a team with other people. This course will teach you:
In an organisation, the duties and responsibilities of various team members.

In a company context, how do administration teams function?

Recognise the characteristics of effective teams.

Organising administrative tasks for various team projects.

To be able to collaborate with others in a team setting.

5. Think like a leader –

Because the corporate world is so competitive, great leaders are constantly in demand. Typical job descriptions in business administration revolve around roles of management and leadership. Motivating others to contribute to the success of a company or organisation is critical to its success. As a result, the Business Administration course prepares students to confront challenges and duties that need them to manage a group of people or an organisation. It promotes cooperation, communication, persuasion, and other essential leadership abilities in this industry.

6. Financial management –

It is an essential component of the inner workings of businesses, which rely largely on solid decisions that propel them ahead toward profit. Monetary management is a critical skill that entails planning, raising, organising, budgeting, and regulating an organisation's assets to guarantee that wise financial investment decisions are made. Business administration training from a

reputable college

will also assist the aspirant in conquering this leg of their entrepreneurial path.

7. Extending one's reach –

Learning how to network is another incentive to study business administration. In business, networking entails communicating with other businesses and reaping reciprocal advantages. Building solid ties and connections benefit individual career ambitions and the firm's future. During the

business administration course

, one may gain additional insights and learn about new industry opportunities by engaging with instructors and associates, which will later be useful for developing relationships in the name of a commercial firm. The programme teaches you about different sorts of networking, how to use them, and how to benefit from them. This training teaches people how to behave in lectures, conferences, or seminars. They put their firm up for success by developing and implementing several networking techniques.
Prospects of becoming a business administration professional
One popular job route that anyone may follow right after graduating from high school is business administration. Business administration manages a company's operations and allocates resources to meet predetermined goals and objectives. This degree attracts analytical and computational-minded students. Business Administration course teaches them economic, financial, and human resource fundamentals. The fact that this degree offers a variety of work options is its strongest feature. Candidates who have earned a bachelor's degree in business administration frequently pursue an MBA. The aspirants then get placed with the title "business manager" after completing their degree. Business managers prepare long-term plans and initiatives to realise the company's goal. However, one can also decide to pursue entry-level positions rather than going for an MBA. These entry-level positions may include manufacturing, business consulting, real estate management, product development, advertising, banking, marketing and sales, telecommunications, business development, information technology, etc.
Industry-wise career opportunities for Business Administration Professionals
Finance
Human Resource
Marketing
Service Sector
IT and Management
Business Analytics

Managers of Financial Risk

Financial Analyst

Manager of Compensation

Marketing Analyst

Customer Care Manager

Marketing Manager

Enterprise Analyst

Investment Banker

Advisor in Insurance

Staffing Director

Sales Manager

Retail Manager

Project Manager

Analyst of data

Business Development Trainee

Credit Appraisal Officer

Employee Relations

Account Manager

Customer Relationship Manager

System Manager

Analyst for computer systems

Sales Analyst

Finance Officer

Generalist Placement

Marketing Manager

Sales Coordinator

Analytics Manager

Medical Analyst

Associate in Banking and Investment

Stock & Tax Broker

Human Resources Manager

Service Manager

Business Development Manager/Executive

Market Research Analyst

Accountant Treasury Manager

Accounting Professional Auditor

Technical Recruiter

Front Office Executive

Data Processing Manager

IT Analyst

Economist

Financial & Investment Consultant

Health Service Manager
How are businesses transforming today?
Today's businesses are becoming increasingly digital. The COVID-19 epidemic has hastened this development. To manage the demands and expectations of expanding enterprises, digital transformation (DT or DX) has transitioned from a technology opportunity to a strict need. Numerous organisations have undergone significant transformations due to these advances, which also introduced new procedures and systems. The main goal of this development is to address issues with efficiency and effectiveness, and businesses that take time to create and apply these strategies will probably not be able to stay up and compete in the new digital world. However, the shift to this new reality should be recognised because, like any change process, it comes with several dangers and difficulties.
Why business management in the digital era is the right fit for your career
The world is ever-changing and ever-evolving, and it is important to move along with others. Advanced digital abilities and different digital models and tactics are crucial for developing into a competent general manager in areas like supply chain, marketing, finance, and company management. A business administration course will help you learn about digitalisation projects that can increase your company's productivity, resilience, and profitability. Let us understand why this training around business management in the digital era is in high demand: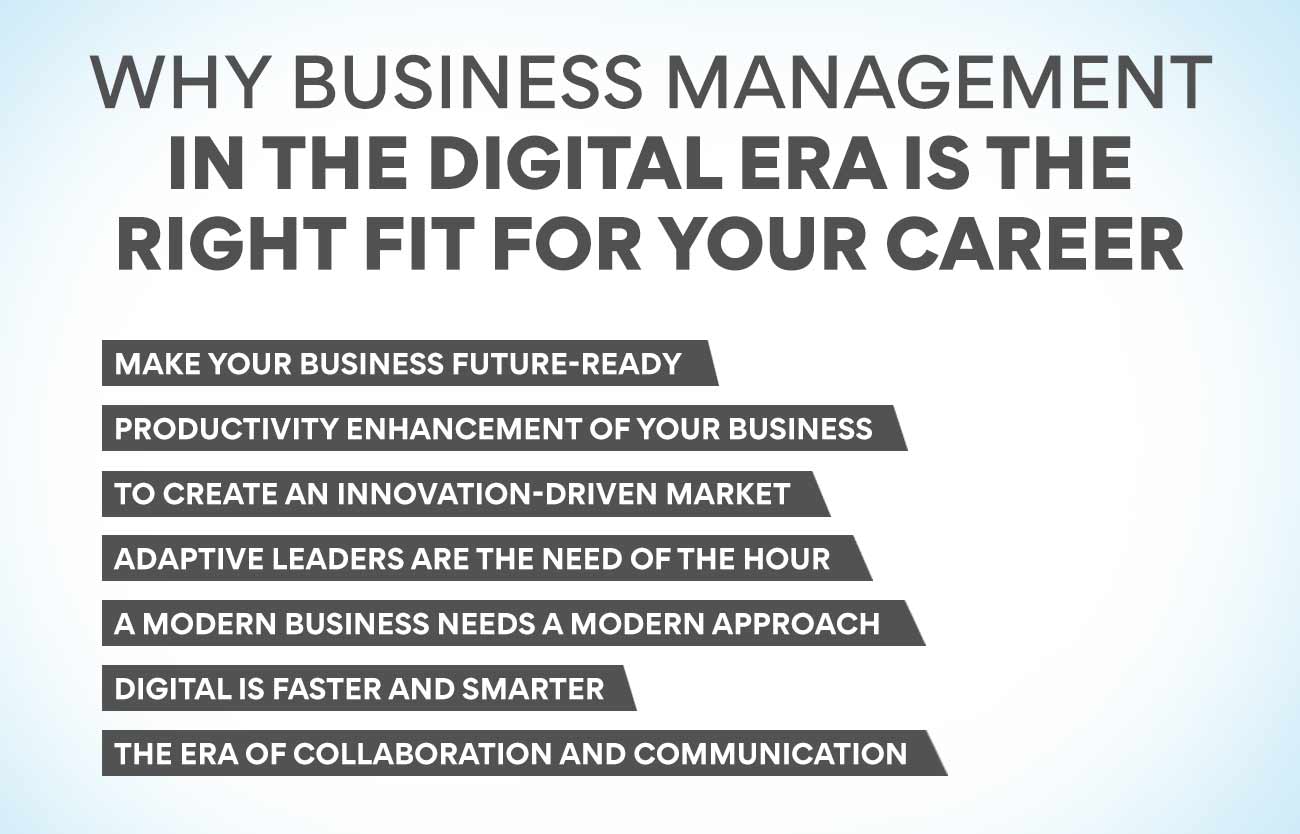 To make your business future-ready:

To survive in the long run, a business should have a future-proof plan of action. Every business needs a manager or a leader to drive it towards the digital era. A degree in business administration course will open doors to high-demand job opportunities in digital businesses. Moreover, a business administration degree will allow you to understand the digital market and bring you a plethora of ideas if you have an entrepreneurial mind.

Productivity enhancement of your business:

Automating manual operations significantly influences productivity in your company. After modernisation, the demand for physical work in that region will be minimal. As a result, there will be less likelihood of errors. In addition, the procedure is quicker. As a business manager trained in the art of modernisation, you will be equipped to digest the changes in the day-to-day working of your business.

To create an innovation-driven market:

The new constant is innovation, and firms have begun recognising this. As a result, businesses have begun organising their innovation processes in their goods and services around the requirements and desires they identify in the markets. However, several businesses still need help to begin innovation journeys with the technology-forward strategy. Therefore, as a business manager, you are instructed to assist your organisation in making this seamless transition.

Adaptive Leaders are the need of the hour:

Effective leadership in the workplace needs foresight, communication, flexibility, and accountability. Business leaders must anticipate requirements and trends for the future, convey a plan of action after gaining consensus, adopt a model of continuous learning and modification, and be ready to take responsibility for any mistakes. And only after passing the

business management course for digital-era firms

does an applicant possess all these skills.

A modern business needs a Modern approach:

Businesses today have requirements which are not the same as that of a traditional business form. The demand for customers has changed, and so have the business requirements. Utilise new digital channels to engage the digital audience, attract new clients, or improve current operations while retaining the current income sources. This is one of the many skills taught in the

business administration course

.

Digital is faster and smarter:

To understand and grow in the digital era, one has to match the speed of practices that digital networks and strategies require. A product today can get viral in just a few hours – it all depends on the skills that one can bring. A course in business administration will provide you with a chance to keep yourself updated with the latest technologies, latest ideas and innovations in the market and allow you to build your skill in and around the requirements of the digital age.

The era of Collaboration and Communication:

The key to making it big in the digital age is to learn the art of collaboration, communication and celebration. To move forward, you can't do it alone, it is important to communicate to build a network of people and collaborate with people who can help you achieve faster and better. However, not everyone can do it, a course in business administration has the potential to build a collaborative attitude to make it big in digital-driven businesses.
Trusted course to learn "Business Management in the Digital era"
If you're interested in managing a business, you may choose several courses. Business Administration courses will teach you by using case studies of companies that are already well-known in the industry and are actively growing to take their operations to the next level. The Advanced Executive Certificate in Business Management in the Digital Era is one such reputable programme offered by the reputable Indian university IIT Guwahati.
It is a one-year curriculum that gives business professionals the necessary abilities to build a world-class company today. Seven modules that can help you be prepared for future issues are used to teach this course: –
Overview of digital business

In the digital economy, marketing

Digital human resource management

Financial Services over the Internet

Supply Chain Management Technology

Online Business Plan

Key Management Elements for a Digital Business
Let's take into account the advantages of choosing this Course from IITG:
This course frequently includes learning through real-life projects in the experience-based domain that makes it easier to integrate and apply newly acquired information to genuine organisational possibilities and difficulties.

Through case study-based learnings, class exercises, simulations, and projects that support learning by doing, applicants can gain practical and hands-on exposure.

With the aid of the Business Administration Course, you may develop specialised digital abilities that can be usefully and practically used across conventional business activities within your company.

Additionally, utilising data and applying analytical methods to enhance connections, collaboration, and business and operational management is also important art which is taught in this course.
So what are you waiting for? Enrol Advanced Executive Certificate in Business Management in Digital Era today and make your business ready for the upcoming digital revolution!