Brand and product management are marketing functions that help boost the market value of a brand or product to its target market. It is often mistaken that these roles are synonymous with each other. But, such is not the case as there are key differences between brand management and product management, which we have detailed in this blog. But first, let us learn about brand and product management and why they are necessary for a business.
Brand Management
A function of marketing, brand management uses strategies to boost the perceived worth of a brand or product line over time. Effective brand management increases product prices and creates loyal consumers via positive brand relationships and notions or powerful brand awareness. Designing a strategic plan to uphold brand equity or achieve brand value demands a thorough knowledge of the brand, its target audience, and the company's overall vision.
Brands have a strong impact on consumer engagement, competition in the markets, and the administration of a business. A powerful brand presence in the market distinguishes an organisation's products from its competitors. It creates a brand association for a business's products or services.
An established brand has to constantly hold its brand image through brand management. Effective brand management boosts brand awareness, guides initiatives that support a constant brand statement, measures and handles brand equity, recognises and acclimates new brand products, and effectively places the brand or the product in the market.
It can sometimes take several years for a brand to get established. But when this establishment finally occurs, it must still be maintained through creativity and innovation.
Product Management
Product management is accountable for supplying products and services that satisfy consumers and guide the business's growth. It is crucial to the firm's more general product development process — the entire cycle of converting a raw vision into a resolution that handles consumer requirements and then calculating its market success.
Businesses attain sustainable success based on the power of what they offer to their customers. Hence why product management keeps growing in popularity and influence. Product managers' commitment to planning, producing, delivering, and repeating resolutions is what solves consumer concerns.
People with an entrepreneurial spirit find the appeal of product management quite powerful. Product managers are usually capable of operating with independence, working across multiple interdisciplinary groups, and developing lifelong professional skills. The possibility of creating a significant impression on business development and guiding the product development process also explains that product management is a demanding profession.
Also Read: What Are The Stages And Examples Of A Product Lifecycle?
Brand Management v/s Product Management
As branding represents the product image, it is frequently presumed that brand management is the same as the management of a product. Certainly, there is an innate connection between the two. Professional product managers always keep a company's branding in mind – product positioning, marketing research, etc. Only because, without a product, there can never exist any branding.
But brand managers concentrate on influencing the mass market and developing brand loyalty via marketing activities. In product management, specifying the roadmap and business plan – bordering on how the product will benefit the consumer while lining up with brand goals, is also essential.
Therefore, these are the questions you must ask first:-
Is brand management a branch of product management?

Can either one manage to work without the other?
By examining the key differences between brand management and product management, the answers to the questions mentioned above will become clear.
Key Differences Between Brand Management and Product Management
There are quite a few key differences in the operations and functions between the two domains, but they coincide at some points.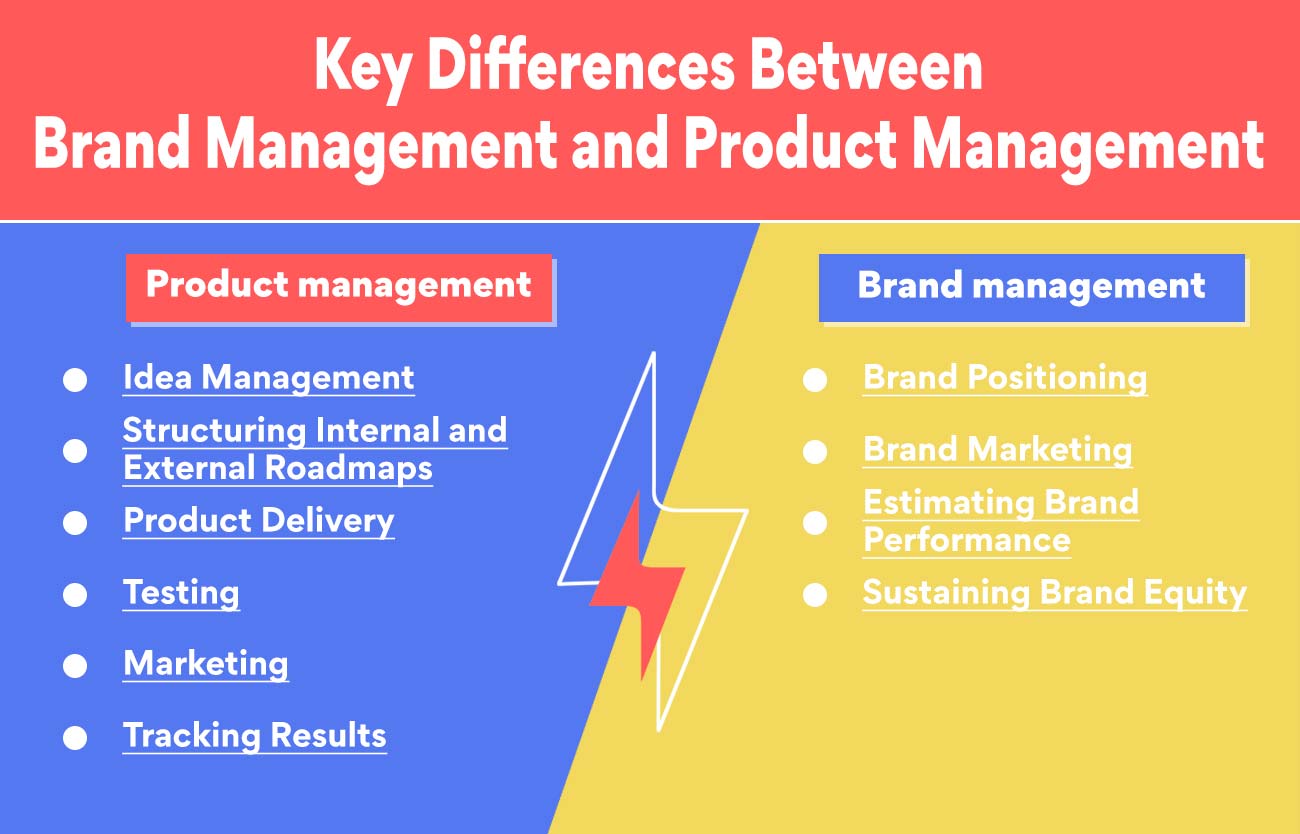 Product Management Strategies
Product management involves converting a concept/idea into a concrete commercial entity. There should then be a structured technique from the product's beginning to completion. However, not every creative vision is attainable.
Idea Management

– Specialists in the domain describe this element as a qualitative method. The company idea should be the starting point to decide how the product will affect the industry, consumers, and the firm. This is accomplished by making a product overview highlighting the product's benefits against the competition and the specifications that resolve the consumers' painful issues. Do notice it is vital to comprehend the consumer at this phase. This is accomplished by constructing a customer persona and apprehending their behaviours.

Structuring Internal and External Roadmaps –

Lining up the short and long-term product objectives with internal associates (sales, development, and administrative units) and externally with investors, stakeholders, and existing consumers is critical. It is recorded to convey the product's direction clearly to everyone concerned.

Product Delivery –

Handling the product delivery is essential, that is, the point of delivery of clear-cut instructions to engineers for product expansion. The product manager has to ensure that the work progress of the engineering/development team lines up with the specified objectives.

Testing

– This method is also viewed as the execution phase, where the product manager runs a series of tests to inspect the efficiency of the product. The purpose here is to decide if the product satisfies the needs of the consumer, and established upon that, the product is then improved.

Marketing

– Depending on the company's size, product managers can likewise be responsible for this element, which they mostly are. They would rationalise the cost of the product compared to their competitors, find the correct distribution medium to sell the product, work with the sales team, etc., to yield revenue decisively.

Tracking Results –

The obligations of the product manager do not conclude in marketing. They would vigorously observe various metrics such as retention rate, user engagement, and so onwards.
Looking to work in the domain of product management but lack the skills? Worry not, as Edureka brings you an Advanced Executive Certificate in Product Management course to help you learn all the tips and tricks in this product managing business.
Brand Management Strategies
Brand management is important to continue refining the product's and company's perception that the consumer these days has and might have in the forthcoming future. While a product manager makes a product successful by creating what a client requires, a brand manager concentrates on preserving that success over time and boosting the reach of the product in the market. Take a look at some of the most essential strategies or processes of brand management.
Brand Positioning

– It concerns with emphasising the idea of the organisation and how the product benefits the consumer and strikes out in the industry. It is identical to the Idea Management function of product management, but here the emphasis is on setting up the brand based on the completed product and not necessarily the notion. Rather, it examines deeply what the target market thinks of the brand and the attributes/qualities that competitions are not capable of offering so far.

Brand Marketing

– This method is essential to develop a brand identity through diverse components, including hashtag slogans, logos, symbols, etc. With a powerful brand identity, customers are capable of associating with the brand especially.

Estimating Brand Performance

– Constantly examining how the brand is functioning is essential to the brand's success. Whatever marketing activities, be it email marketing, social media marketing, etc., are used, they should drive measurable outcomes in order to enhance consumers' perception effectively.

Sustaining Brand Equity –

Brand equity is the completion of elements such as perception, awareness, identifying threats against opponents, market relevancy, consumer loyalty and worth of the brand. Incorporating quality control in products, offering accessibility by building an active society, and producing positive experiences aid in preserving these complementary elements. It is through brand equity that a company is capable of expanding its reach in diverse areas.
Product Manager vs Brand Manager
While Product Managers work on building a product, Brand Managers work on constructing a strong brand established around that product. Brand managers are accountable for how the general public thinks of a product, designing strategies that will gather emotional reactions leading to brand loyalty. While a Product Manager's function is concatenated to a product's design and attributes and how it will accommodate in a marketplace, Brand Managers concentrate on various value propositions. Here are the major responsibilities and differences between a Product Manager and a Brand Manager:
Product Manager
A product is a good or service presented to the consumers and created by the Product Manager. They focus on a product's features and designs. They want to create, update, and continue to keep their product operating smoothly, concentrating on how customers associate with it and how it incorporates into the market. Their job is logistical, and they work closely with developers, executives, marketing, sales, and Brand Managers.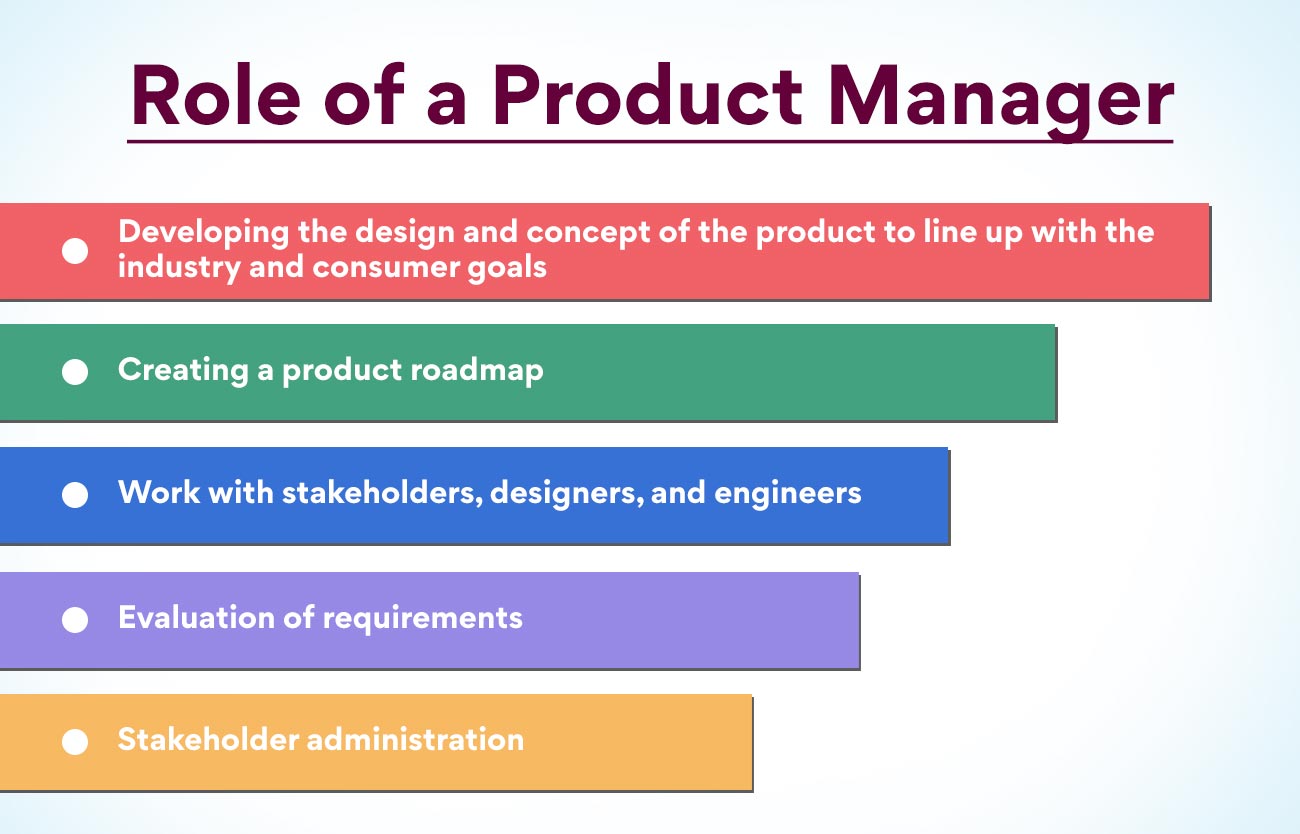 A Product Manager possesses the product and is accountable for the triumph and loss of the product. They are also liable for the strategy and vision of the product. They must remain on top of developments and make sure the product covers all grounds. A couple of their obligations include
Developing the design and concept of the product to line up with the industry and consumer goals

Creating a product roadmap

Work with stakeholders, designers, and engineers

Evaluation of requirements

Stakeholder administration
Also Read: What Is Product Planning And How Is It Done?
Brand Manager
A brand is an abstract notion that guides how a firm is considered by the masses, including both opinionated and factual details. For instance, when considering Apple, you are aware that they sell mobile phones, but you may also believe they are creative. Brands are not solely firms and products but individuals as well. Stars and sportspeople often build their own brands and design the branding in a specific way for it to be perceived well by not just their fans and followers but everyone in society.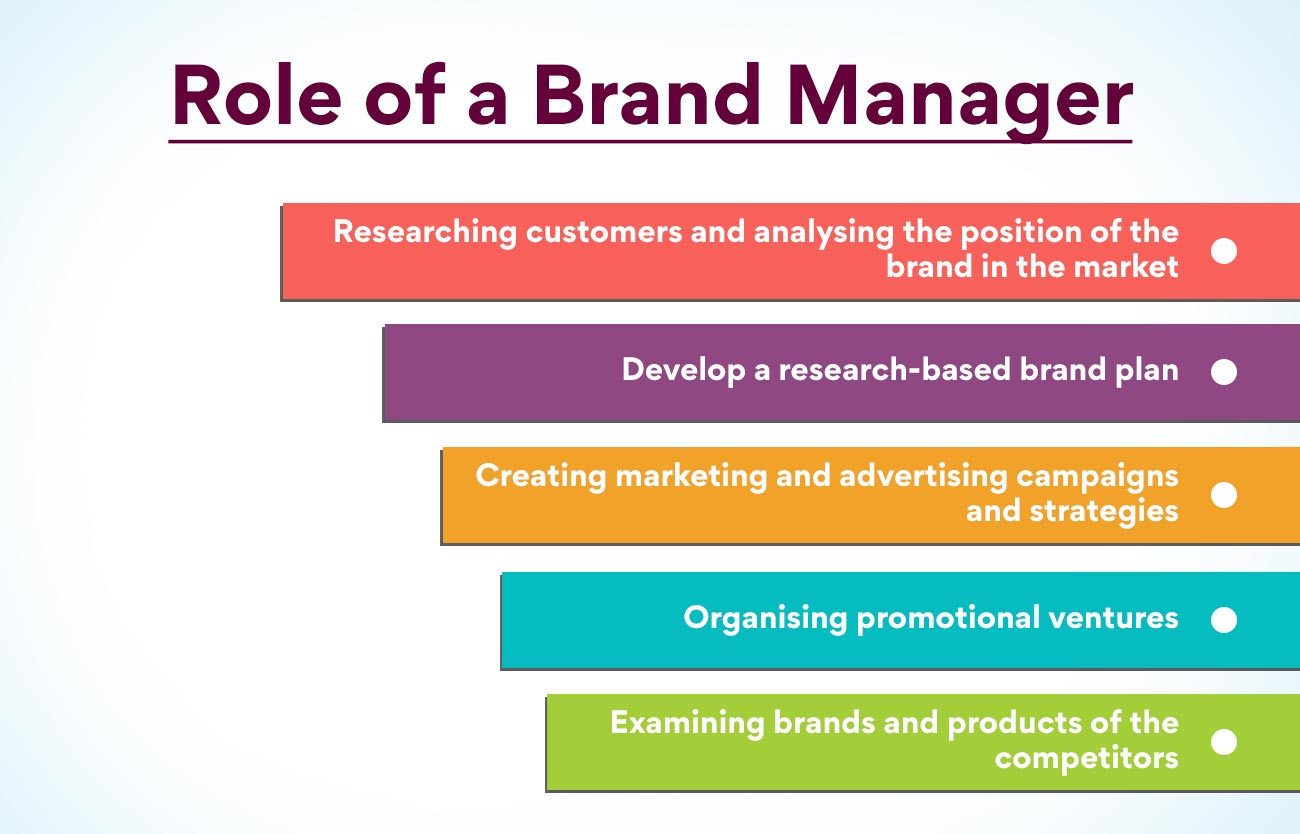 Brand managers are in command of making sure that branding is uniform with all advertisement and marketing plans. This can comprise supervising advertisements, architecture, or events. They use consumer and pattern studies to create tactics that influence how customers perceive the brand.
As the new generation has started consuming the products, they are increasingly driving purchasing decisions established on a firm's brand and worth. The demand for qualified Brand Managers is now quite high in the marketing business.
The role of a Brand Manager is to strategically create a brand for a firm or product. They have to impact the people's perception of the firm/product. A couple of their main obligations include:
Researching customers and analysing the position of the brand in the market

Develop a research-based brand plan

Creating marketing and advertising campaigns and strategies

Organising promotional ventures

Examining brands and products of the competitors
Numerous transferable skills are there in a brand manager and directly connect to those required by a product manager. Whether you bring your expertise in consumer wish fulfilment, trend awareness, creativeness and the capability to create creative and unique ideas, or team communication skills, these are all vital to thriving as a Product Manager.
Conclusion
Brand management and product management have different functionings, with some overlapping in the activities of the market. As far as branding is concerned in being a part of the product, you can now decide better that these are separate domains that demand specific expertise of their own because one needs the support of another for the survival of the company.
In conclusion, brand management is more about perceived value and perception. In contrast, product management is more about the measurable value and tangible propositions. This is represented in the consumer satisfaction surveys where brand users of customer products rank the brand according to the understanding levels of happiness. Whereas product users in software rank the product as per the measurable and specific benefits it brings.
An Advanced Executive Certificate in Product Management can assist you in entering this successful product management and marketing field. With our course, you can sharpen your skills with live classes and interactions with the best mentors in the industry. With convenient class schedules, even working professionals can also enrol themselves in this course.
More Information:
Brand Management v/s Product Management: Know Key Differences
What Are The Reasons of Variations in Product? Causes & Reasons