Big data and analytics have now almost become a norm for digital business and are utilized by almost every company that wants to ensure that their online marketing efforts are leaving behind a sufficiently strong digital footprint. Google analytics and tag manager are two such tools that individuals as well as companies use to strengthen their digital efforts in an attempt to increase sales and engage audiences.
In this article, we attempt to break down the two leading services, Google Analytics Premium and Google Tag Manager to get a better understanding of how they can benefit a business and help to boost revenue and sales.
Google Analytics Premium
Google analytics was launched with the aim of giving all websites a better picture about their visitors and what they were specifically looking for. But large scale businesses and brands needed something more that the basic version could not provide. So Google launched Google Analytics Premium, a more advanced and more responsive version of the analytics tool.
Google Analytics Premium is built on a foundation of four primary pillars to benefit its users:

Google Analytics Premium was developed to collect comprehensible data that is precise, actionable and integrated so that large organizations can gain intelligence and information about their varied users in an in-depth fashion. With its enhanced scale of operations, Google Analytics Premium allows large organizations to derive and analyse nuances of the data to prepare strategies that will boost their business performance. It essentially combines some of the best offerings of Google such as AdWords, Google Display Network, Big Query, Doubleclick Campaign and Bid Manager etc. to ensure that it provides a well-rounded service for all the requirements of large organizations.
While there are many other analytics tools available in the market, Google's efficiency, insightfulness and overall ability to churn out validated information makes it the top ranked analytics program available.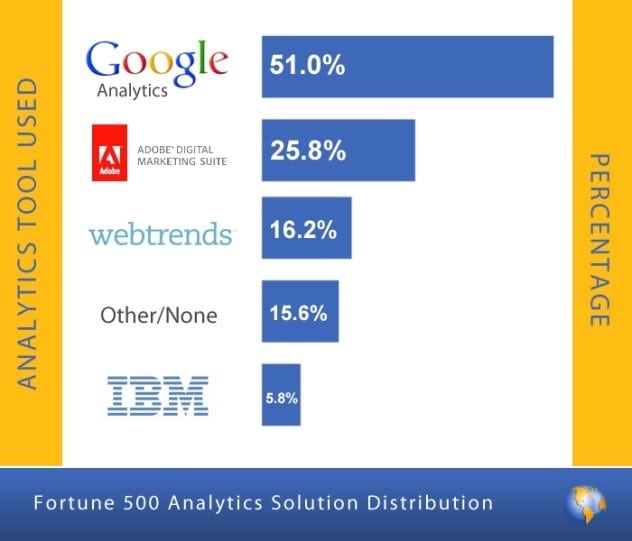 Available for a fixed annual fee of $150,000 it can be purchased directly from Google or through authorized re-sellers.
Google Tag Manager
A tag is a code associated with a website that sends specific information about the page to sites like Google. Websites use tags to increase visibility and ensure that a search engine throws up the website link upon the search of similar keywords.
Earlier, websites needed to add the code for such tags directly to the files on the website or app. But with Google Tag Manager, this entire process is simplified and there is no need to maintain codes for tags in source files. Google Tag Manager allows users to include relevant tags and even specify when they need to be added into the interface through a tag container placed on the webpage and then Google handles the rest. Even the follow up process is simplified in case one needs to add or manage tags after the page has been published. Through the tag container, it is very easy to update, edit and manage additional tags right from the website itself. It is a one-point system that allows for the tag management of multiple websites from a single platform.
Google Tag Manager has made digital marketing speedy, flexible and straightforward. It offers benefits that make it quick and easy to update the following: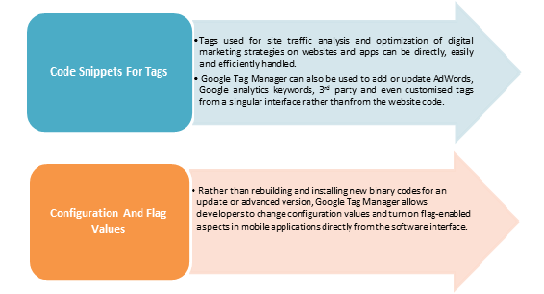 Using Google Tag Manager not only simplifies management of a webpage or an app, it also helps to reduce errors, removes the requirement to involve or hire a web developer and allows individuals to deploy new features and data on a site faster and without external support.
With programs like Google Analytics Premium and Google Tag Manager, brands no longer need to rely on third party vendors to employ their digital marketing strategies. By bridging the gap between clients and customers, Google has created a direct two-way channel to ensure an uninterrupted flow of information that helps audiences find what they need easily and helps brands increase revenue.
Powered by Ivyclique
Got a question for us? Please mention them in the comments section and we will get back to you.
Related Posts:
Get Started with Mastering Google Analytics
Digital Media Analytics: Everything You Need to Know