Big data has been a favourite and popular buzzword in the tech industry for the past few years and will continue this way as the amount of data keeps growing every day. Big Data has made huge impact on various organizations across varied industries. Let's take a look at Gartner's predictions on Big Data.
Gartner's Big Data Predictions:
On Job Openings:
According to Peter Sondergaard, senior vice president at Garnet, 4.4 million IT jobs would be created to by 2015 to support Big Data, generating almost 1.9 million IT jobs in U.S alone. This creation of Big Data IT jobs consequently results in further employment opportunities outside the IT sector. For every Big Data role in the U.S, there will be 3 more job opportunities for people apart from the IT sector.
On Skill Gap: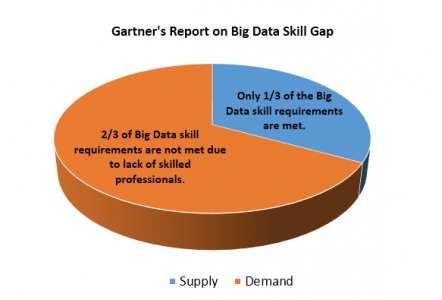 Peter Sondergaard states that in spite of having a huge demand for people with Big Data skills. According to him, almost two third of the IT jobs will not be filled due to lack of talent. He insists that IT leaders need to urgently focus on how their organization develops and attracts the skills required. The need to implement Big Data in organization and the resulting need for Big Data professionals is imperative as Big Data is the future.
For CIO:
Peter Sondergaard also had few pointers for CIO regarding Big Data. He said, "Big data is about looking ahead, beyond what everybody else sees……..You need to understand how to deal with hybrid data, meaning the combination of structured and unstructured data, and how you shine a light on 'dark data.' Dark data is the data being collected, but going unused despite its value. Leading organizations of the future will be distinguished by the quality of their predictive algorithms. This is the CIO challenge, and opportunity."
Find out our Big Data Hadoop Course in Top Cities
On Big Data Implementation:
Gartner also predicts that by 2016, 25 % of large global enterprises will have implemented Big Data analytics for security or fraud detection use case. This is 8% increase from the percentage implemented today.
By 2015, 20% of Global 1000 companies would have established a strategic focus on information infrastructure.
Shortfalls without Big Data:
In Gartner's BI Summit Stats 2013, 75% of the current data warehouses will not be able to meet the demands of velocity and complexity aspects of the data.
86% of organizations won't be able to deliver the right information in the right time.
On an average only 43% of the business potential of organization are being realized.
Only 13% of the organizations are using predictive.
As far the shortcomings go, Gartner suggests that implementation of Big Data and utilization of properly skilled Big Data professionals can improve efficiency and thereby expand the business. In short, there are big prospects for Big Data and the forecast for it look sunny. Discover the secrets to harnessing big data for business success in our expert-led Big Data Hadoop Course.