In source configuration we are passing the Twitter source type as org.apache.flume.source.twitter.TwitterSource. Then, we are passing all the four tokens which we received from Twitter. At last in source configuration we are passing the keywords on which we are going to fetch the tweets.
In the Sink configuration we are going to configure HDFS properties. We will set HDFS path, write format, file type, batch size etc. At last we are going to set memory channel as shown in the below image.

Now we are all set for execution. Let us go ahead and execute this command:
$FLUME_HOME/bin/flume-ng agent --conf ./conf/ -f $FLUME_HOME/flume.conf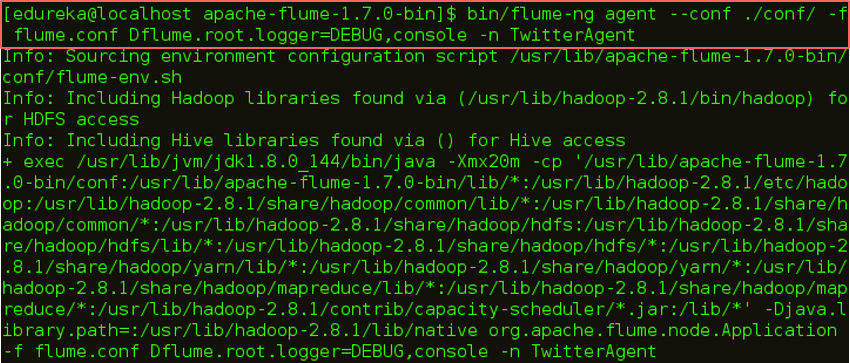 After executing this command for a while, and then you can exit the terminal using CTRL+C. Then you can go ahead in your Hadoop directory and check the mentioned path, whether the file is created or not.

Download the file and open it. You will get something as shown in the below image.

I hope this blog is informative and added value to you. If you are interested to learn more, you can go through this Hadoop Tutorial Series which tells you about Big Data and how Hadoop is solving challenges related to Big Data.
Now that you have understood Apache Flume, check out the Hadoop training by Edureka, a trusted online learning company with a network of more than 250,000 satisfied learners spread across the globe. The Edureka Big Data Hadoop Certification Training course helps learners become expert in HDFS, Yarn, MapReduce, Pig, Hive, HBase, Oozie, Flume and Sqoop using real-time use cases on Retail, Social Media, Aviation, Tourism, Finance domain.
Got a question for us? Please mention it in the comments section and we will get back to you.