Apache Cassandra™ was born as an Apache Software Foundation project on Google code in the year 2008. Cassandra is an open-source NoSQL distributed database management system that is designed to handle large amounts of data with no single point of failure, providing high database performance and availability. Named after a Greek mythological prophet, Apache Cassandra was originally developed at Facebook to power their Inbox Search feature and has today evolved to lead innovation in NoSQL. With the explosion of big data, companies are increasingly employing open source software and NoSQL database technology, and Cassandra is a popular choice owing to the scalability and availability it brings to the database world. In such a scenario, the demand for Apache Cassandra professionals has reached its peak!
Apache Cassandra Career Opportunities
Big Data is expected to grow into a $3 billion market by 2018. With this growth comes the need for professionals who can handle this big data and solve big data problems. According to Dice.com's 2016 salary survey, Apache Cassandra is the top paying NoSQL skill and the second highest paying overall skill across SQL, cloud, analytics and more.
This spike in demand for Cassandra professionals with NoSQL skills is a recent phenomenon. The survey shows that, of the 73% of survey respondents that said Apache Cassandra is critical to their job, nearly 60% said it was not critical just six months prior to the survey. It was also found that, more than a quarter of respondents already held certifications in Hadoop, MongoDB, SQL Server and Oracle, but were searching for training and planning to get certified in Cassandra.
There is a massive skills gap in the NoSQL Industry, and this is the right time to pursue Cassandra training to take advantage of the available career opportunities.
Apache Cassandra Salary Trends
According to a Venturebeat article, NoSQL was worth $118,587 in 2015. The article also states that the pay for NoSQL-associated jobs has climbed 3.3% from 2014 to 2015, based on Dice.com data. Dice has 2142 positions for NoSQL as of 31st May, 2016, out of which 960 job listings are for Apache Cassandra alone.
According to Dice Tech Salary Survey 2016, Cassandra was worth $147,811 in 2015. Cassandra skill saw year-on-year change of 14.9%, ranking as the second top-paying tech skill in 2015. The trend has continued in 2016. A quick search on LinkedIn on the day of writing this blog threw up 3,763 Cassandra jobs in the United States and 767 Cassandra jobs in India across levels. These jobs are spread across industries such as Information Technology and Services,
Indeed.com shows that the average salary for Cassandra jobs is $107,000 in the United States, and the percentage of matching job postings is on an upward trajectory as shown in the graph below.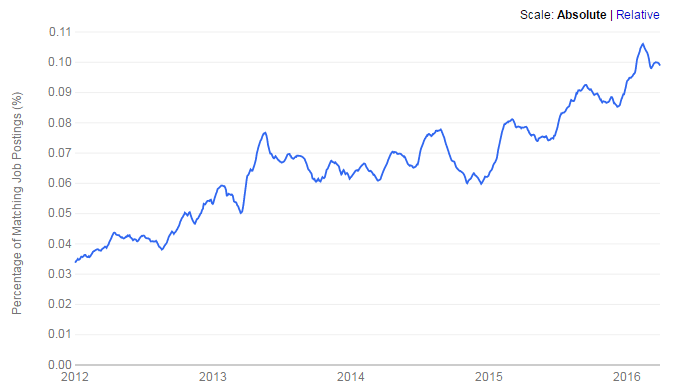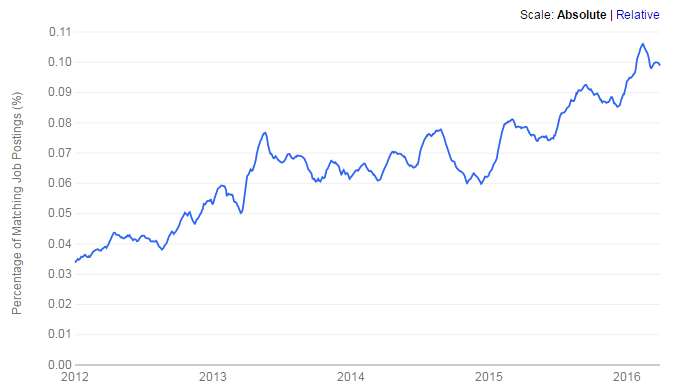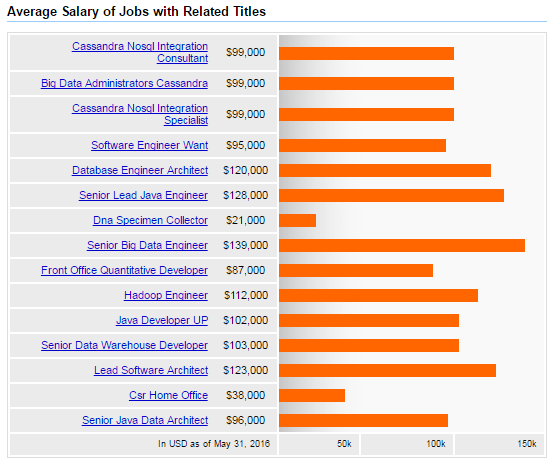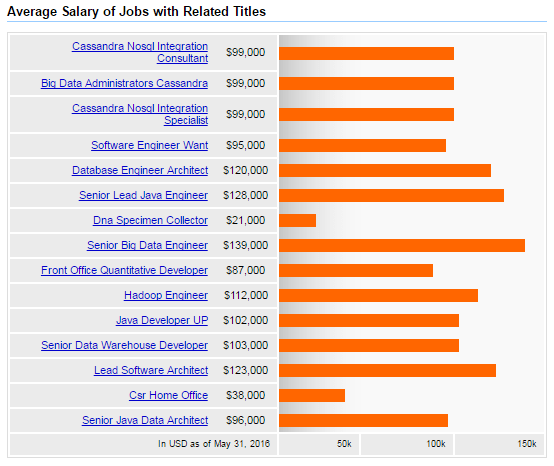 Source: Indeed.com
According to Payscale.com, the average pay for Cassandra professionals in India starts at Rs. 413,000 and goes up to Rs. 1,500,000, based on the years of experience. A snapshot of this salary trend is given below.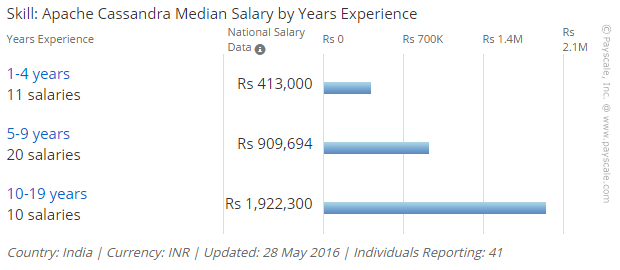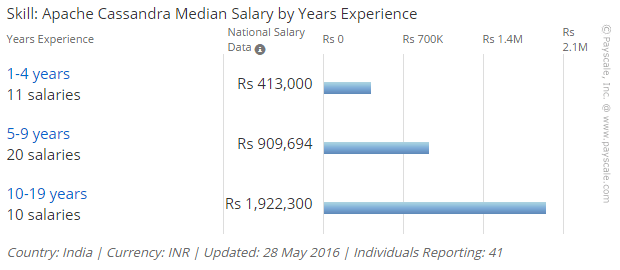 Source: Payscale.com
Apache Cassandra Job Roles
Cassandra training opens up a lucrative and rewarding career path. Some of the Cassandra job roles that are available for a professional with Cassandra skills are:
Cassandra Developer
Cassandra Database Administrator
Data Architect Cassandra
Cassandra Solution Architect
Performance Tester – Cassandra
Data Engineer
Functional Tester – Cassandra
Apache Cassandra Career Path
Cassandra is one of the most popular NoSQL databases today and it is used by some of the top companies in the world to manage their big volumes of data. A few of the most famous adoptors of Cassandra are Facebook, Twitter, Apple, IBM, Cisco, Rackspace, NetFlix, eBay, Reddit, WalmartLabs, Zoho and Digg. There are many more companies across the globe that are using Cassandra for their data needs.
Learning Apache Cassandra could be the turning point in your career. Cassandra NoSQL does not have a steep learning curve and it is known to provide a familiar interface (CQL, reminiscent of SQL). Writing to Cassandra database is also extremely fast and it tops the chart among Column-Family NoSQL databases. The popularity of Cassandra is shooting through the roof and so are the job opportunities. Take advantage of them now!
Edureka has a specially curated Cassandra course that is aimed to help you master topics such as Cassandra Datamodels, Cassandra Architecture, Differences between RDBMS and Cassandra to name a few. New batches are starting soon; check them out here.
Got a question for us? Please mention it in the comments section and we will get back to you.
If you wish to learn Microsoft SQL Server and build a career in the relational databases, functions, queries, variables, etc domain, then check out our interactive, live-online SQL Course here, which comes with 24*7 support to guide you throughout your learning period.
Related Posts:
Get started with Apache Cassandra
Top Apache Cassandra Interview Questions
Why Learn Cassandra with Hadoop