We are living in the world of 'smart devices, aren't we? We see them everywhere, be it touch screen smart phones, tablets or smart computers. It is hard to fathom the extent to which these devices have changed our lives. Not long ago, we used simple hand phones to make calls and send/receive text messages. What about now! Going way beyond their standard role of making phone calls, smart phones allow you to pocket everything from a camera, music player, personal computer to a television.
So, what makes a smart device 'smart'? I am sure you don't need to be a techie to answer this question. It is the OS. With a couple of operating systems that we would have come across in the market like IOS, windows etc, Google Android is the number one choice for a smart device.
An interesting question that I am going to answer in this post is, is android still the most sought after platform?
According to IDC, the global share of Android in Smartphones is going to peak in 2015! Here is a detailed forecast: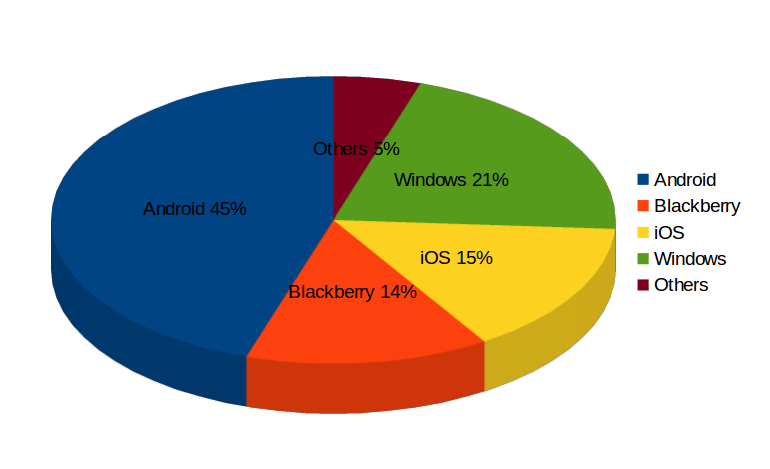 Since a lot of Android devices are getting more efficient and affordable, the size of the market is expected to grow. This goes to the extent where different versions of Android itself have been rolled out.
For more details on the latest trends in Android, read here
Android is on multiple devices
There is something for everyone on the Android platform. The variety of Android smart phones, tablets and cameras from manufactures like HTC, Samsung, Sony, LG, Motorola and others are quiet amazing. Android being open source is attracting more number of manufactures and is permitting them to explore their imagination, resulting in variety of android gizmos. So, you are not restricted to use a particular brand.
Android is on multiple price tags
The wide variety of Android devices and growing manufactures are catering to any budget. Anybody can now afford an android phone! You need not worry your pocket for a true smart phone experience. To be precise, affordability is the key driver for Android dominance worldwide.
Android's abounding applications/apps
Will you not be happy to see your favorite games and apps for free? I will surely be! Being open source, Android has a flood of free apps and games than any other.
Android Platform also lets you create your own application. Sounds interesting right? Yes! If you are an Android smart phone or tablet freak, and want to create your own app, you can go ahead without any coding skills. Just download the SDK, learn to develop the apps and start off!
Android platform can go on your PC too
You don't have to really buy a smart phone or a tablet to get started with Android. You can install it on your personal computer too. Let us give it try then!
The other stunning features that makes Android stand out are:
Google maps and navigation
Google map is simply the best for navigation and being free makes it perfect.
The Android browser gets the web at your fingertips. You can view multiple pages at once, sync Google Chrome bookmarks for your favorite sites, save web pages to read when you are offline. On the whole, it makes it fast and easy just like you do on your computer.
Beam connection from one phone to another
Sharing has never been so fancy, like it is with Android beam. With Android beam, you can share contacts, web pages, videos, directions and apps with the help of near Field communication (NFC). All you need to do is touch two NFC enabled devices back-to-back and tap the screen to beam on the other screen.
Lock/unlock the device with your face
Android platform has facial recognition technology, where you can open the device with your smile! So, if you want to lock your device and you are bad with recollecting passwords, this is the best and fun way to do.
Therefore, Android has taken the user experience and mobile computing to the higher level, keeping the prices of the devices well within the reach of a common man. Android will be ever growing and so will the need for Android developers!
So, now don't you all feel that Android is still and will always be a sought after platform? !
Got a question for us? Please mention it in the comments section and we will get back to you.
Related Posts:
Learn More about Latest in Android
Start your training on Android Development
Android for Beginners: Interview Questions and Answers.
Top 5 Android Interview Questions for Freshers.