Bhavya Venugopal's project #YourTravelCompanion struck the right chord with the judges in the Hackfest held in December 2014. The Twitter-powered travel suggestions app, which won unanimous appreciation, aims at giving current and more relevant information to users based on Twitter data.
For example, events currently happening in a city, or a local favorite restaurant wouldn't generally show up on a conventional travel-suggestions app, but people use Twitter a lot to showcase a place or event when they love it. And if it's on Twitter, it's definitely on #YourTravelCompanion!
Let's hear what an elated Bhavya, who took home a shopping voucher from Amazon worth $500, had to say about the Hackfest:
"I was very excited when I first read that Edureka was hosting a Big Data Hackfest. I thought it was a great opportunity to put everything I'd learnt from the Big Data course into a real-world project. So, I enrolled myself and started looking for ideas. In one eureka moment, the idea of #YourTravelCompanion came to me and I started working on it. I faced a lot of hurdles while working on the project since I was new to the world of databases and Hadoop. I'm thankful to the mentoring I got from a senior in the Big Data world. My experience with Android application development also helped me in creating an end-to-end usable product."
Bhavya's take on winning the contest:
"It was a very pleasant surprise when I got to know that I was selected as the winner, as I'd not really focused on winning the Hackfest. It felt nice to know that good work always shows and gets its due appreciation. I thank Edureka for giving this wonderful opportunity for all its students, and I hope they continue to create avenues for professionals and students to learn and grow!"
Resources to Refer:
Here's the award-winning app:
Now that we've seen what Bhavya's app is all about, let's take a look at the  brief overview of the different components involved and how they work together: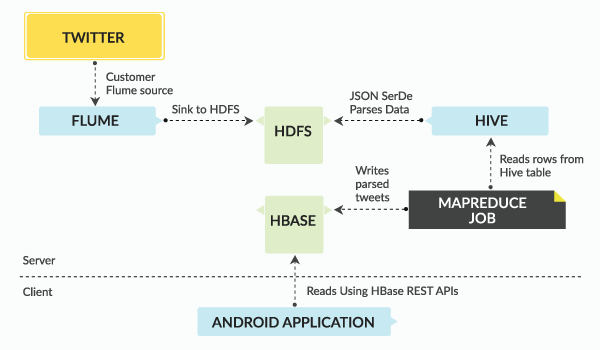 Flume: Flume Twitter agent uses Twitter streaming APIs to collect tweets filtered on travel-related keywords like trip, adventure, fun, etc.
Hive: Tweets are loaded into external Hive tables using custom Json Serde. Only relevant fields are loaded into tables.
MapReduce: A Map-Reduce job uses HCatalog to read records from the Hive table, filtering geo-tagged places.
Reverse geocoding: Places are mapped to the cities to which they belong based on their co-ordinates using a reverse geocoding library that uses Geonames.org's cities dump file.
HBase: Tweets are stored in HBase with <cityname><tweet-id> as rowkey. This enables faster fetch of popular places based on the user's city.
Android application: Client Android application allows user to pin any place on the map and a request is made by the app using HBase REST API with city name as rowkey suffix. HBase rows are parsed to extract relevant info and markers of "popular places" are placed on the map.
Resources to refer
Post-announcement, Bhavya was asked to create a video giving the problem statement along with a detailed description of her project.
There was an overwhelming response for the Hackest from participants across the globe. The projects we received showcased the immense coding talent of all the participants. Thank you all for the interest and for coming up with your best coding skills.
Look out for more such Hackfests and keep your best projects coming!
Got a question for us? Mention them in the comments section and we will get back to you.
Related Posts:
Get Started With Big Data and Hadoop