Agile development process came into view as an alternative to established 'plan-driven' Waterfall model of project management methodology in early 1990s. This approach works well for small projects with limited scope of work and a few variables. Know more about what PMI-ACP® is all about to get a clearer picture about it.
Looking at the rate of implementation of Agile and the growing popularity of it, it is pretty evident as to why you should go for PMI-ACP®. Here are more reasons which validate your decision to go for it. The number of reasons here is staggering and provides you the fact to go ahead and learn PMI-ACP®.
Competitive Advantage over Your Peers:
An Agile Certified Professional gets trained in principles and practices that alter the performance of a team. When training in Agile, one learns to combine the best Agile methodologies to ensure superior delivery of the finished project. Being a certified professional, guarantees quick response and thereby empowers him with a competitive advantage and helps him stay ahead of his peers. This helps you out in your career as there are organizations looking for the most capable and knowledgeable professional to lead their projects.
Increased Adoption of Agile:
According to the recent report by the Standish group, organizations have started seeing more success in adopting Agile methodologies.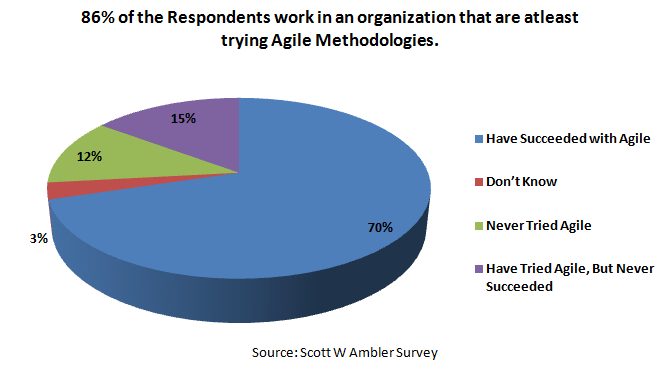 There is a continuing trend in adopting agile and it continues to gain momentum. In a survey conducted by Forrester in 2010, 35% of the organizations used Agile and in a survey by Actuation Consulting in 2013, 86.9% of users used Agile. There is a gigantic leap in the number of users/organizations implementing it, making it a popular methodology in use.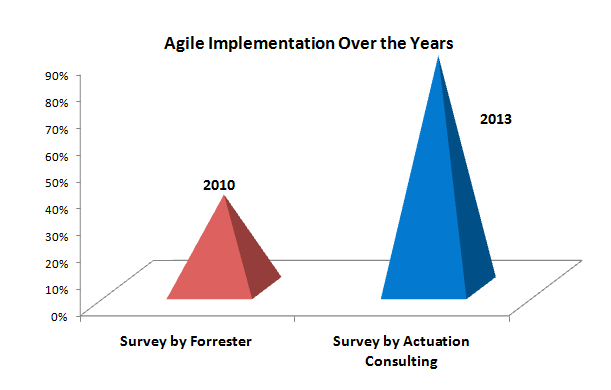 Huge Demand for Agile Professionals:
ESI International in their top 10 trend for project management for 2014, has predicted that project managers are in high demand and at the same time there seems to be some difficulty in finding the right talent. With the steadily increasing adoption of Agile methodologies across the globe, a corresponding increase in the demand for top project management talent is inevitable. ESI also predicts that key project management jobs will remain hard to fill due to shortage of skilled PM professionals.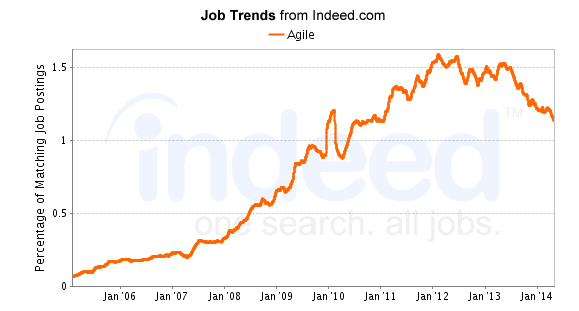 Research shows that project management practitioners are implementing agile principles and practices successfully, making it a popular choice. Considering its growing popularity and usage, even PMI® started a course in 2012. The graph below shows the job trends of PMI-ACP® in Indeed.com. From this image it is evident that there is a surge in demand for professionals skilled in Agile.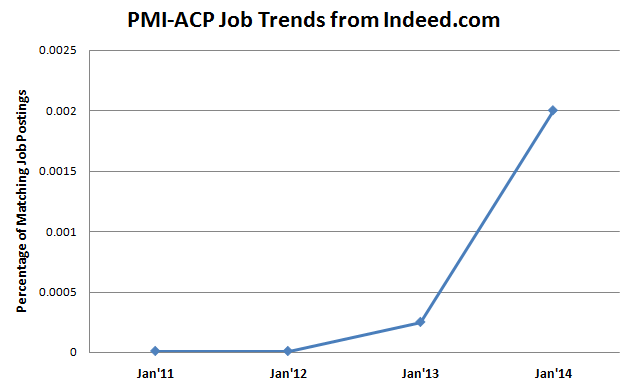 Agile Better than Traditional Waterfall Approach:
It is understandable that the Waterfall approach or other similar methodologies will be suitable for some business types, but there is evidence now that these organizations are looking out for other methodologies as well and Agile seems to be in the forefront. According to a survey by Actuation Consulting, 65.8% of Waterfall users associate Agile with increased profits and only 13.2% of users believe that a pure Waterfall will lead to increased profits.
In an annual survey conducted by State of Agile, 73% of the respondents felt that Agile helped them to complete faster, 33% felt that Agile accelerated the time to market, 92% said that it improved their ability to manage priorities and 87% reported increased productivity. About 23% of the respondents agree that Agile did help them to align IT and Business better.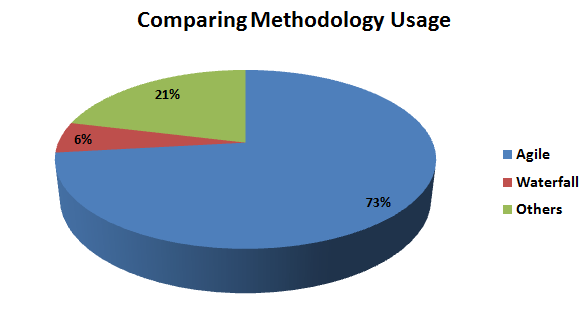 Reports shows that the popularity of Agile is increasing and captivating the hearts of Waterfall users. As a result, there is an increase in Agile users and more and more users are clubbing Agile methodologies with Waterfall approach.
Strong Career Opportunities:
The Agile environment is creating strong career opportunities for IT Project Managers, Testers and QA professionals, who can move into specialist positions such as 'Agile Mentor' or 'Agile Scrum Master', 'Technical Business Analyst' and 'Agile Coach'. Numerous organisations around the world are looking for professionals with strong knowledge in Agile. With the help of certification, it becomes easy for these professionals to move the authoritative positions, as certification is proof that one has theoretical knowledge of how to deal with challenging projects.
Increased Productivity:
Numerous surveys are clearly indicating that organizations implementing Agile methodologies are proving to be much more productive than other methodologies, in terms of accelerated time to market, managing changing priorities, taking lesser time to complete, completing project within the budget and time frame. Agile methodologies have proved itself when it comes to bringing down the cost and increasing efficiency.
Agile methodologies boost team performance and create an amicable environment for joint decision making, learning and resolving impending issues within the team and thereby increasing productivity of the team as well as each and every member of the team.
Certification = Instant Validation:
Being certified is almost synonymous (this is evident from the demand for certified PM professional) to proof of your knowledge and dedication to increase the standards and performance of projects using Agile methodologies. Because of this very reason, organizations trust a certified Agile professional to efficiently plan and execute a project when compared to a non-certified professional. The certification instantaneously gives you an edge when recruiters are looking for a project management professional. Being certified automatically increases the chances of having a successful career. There are more advantages that comes with the certification.
Better Remuneration:
According to a recent survey by Project Management Institute, the median salary for project management professionals in United States, Switzerland, Australia, Germany and the Netherlands is more than $100,000. And the average salary of a certified PMI-ACP® is about $123,000 per annum. The difference in salary of a certified and non-certified PMI-ACP is about 28%, with the former getting the higher pay. We have discussed about the salary aspects in this post.
Last but not the least; Though not included as one of the reasons, the surging trend of project management on the whole is a good reason to learn Agile
Rising Trend of Project Management on the Whole:
Project Management trend continues to be on the rise and has ranked as one of the Top 10 IT skills for 2014. It continues to be one of the most desired skills in the IT sector.
There you have it! These are the reasons for you to learn PMI-ACP®. PMI-ACP® is the ideal qualification for IT project managers. So, go ahead and make your mark in the field of project management.
Got a question for us? Please mention them in the comments section and we will get back to you.
Related Posts:
How valuable is PMI-ACP® to your Career?
Agile Methodology and Importance of PMI-ACP®
PMI-ACP is a registered mark of Project Management Institute, Inc. Edureka is a Global PMI® REP: ID 4021