The Big Data Hadoop market is undergoing gigantic evolution and is showing no signs of deceleration. Big Data & Hadoop skills could be the transformation between your current career & your dream career. I would say, now is the right time to learn Hadoop.
The key reasons to learn hadoop are:
Top 10 Reasons To Learn Hadoop | Hadoop Certification | Edureka
Let us cover them in descending order.
10. Big Data Analytics: A Top Priority in a Lot of Organizations
Big Data has been playing a role of big game changer in most of the industries over the last few years. In fact, Big Data has been adopted by a vast number of organisations belonging to various domains. By examining large data sets using Big Data Tools like Hadoop and Spark, they are able to identify different hidden patterns to find unknown correlations, market trends, customer preferences and other useful business information.
Big Data adoption reached 53% in 2017 up from 17% in 2015, with telecom and financial services leading early adopters. – Forbes
The primary goal of Big Data Analytics is to help companies make better and effective business strategies by analysing large data volumes. The data sources include web server logs, Internet click-stream data, social media content and activity reports, text from customer emails, mobile phone call details, and machine data captured by sensors and connected to the Internet of Things (IoT).
Big Data analytics can lead to more effective marketing, new revenue opportunities, better customer services, improved operational efficiency, competitive advantages over rival organizations and other business benefits.
Commercial purchases of Big Data and Business Analytics (BDA) related hardware, software, and services are expected to maintain a compound annual growth rate (CAGR) of 11.9% through 2020 when revenues will be more than $210 billion. – IDC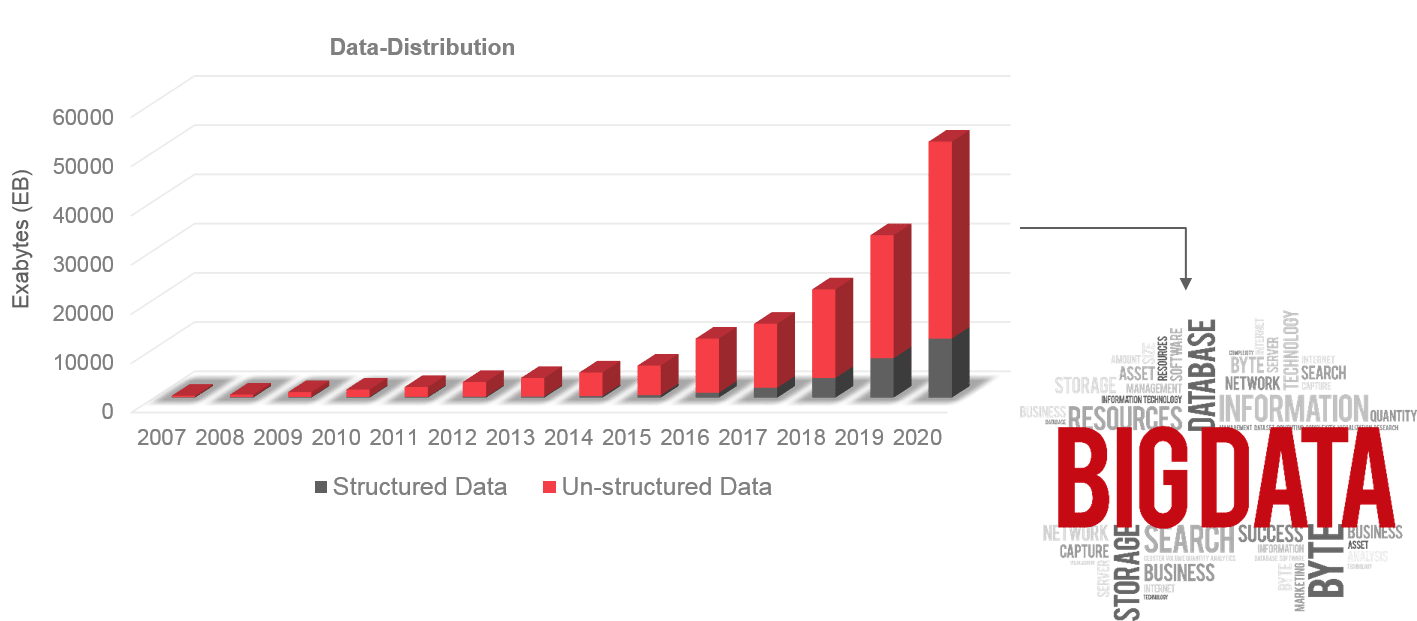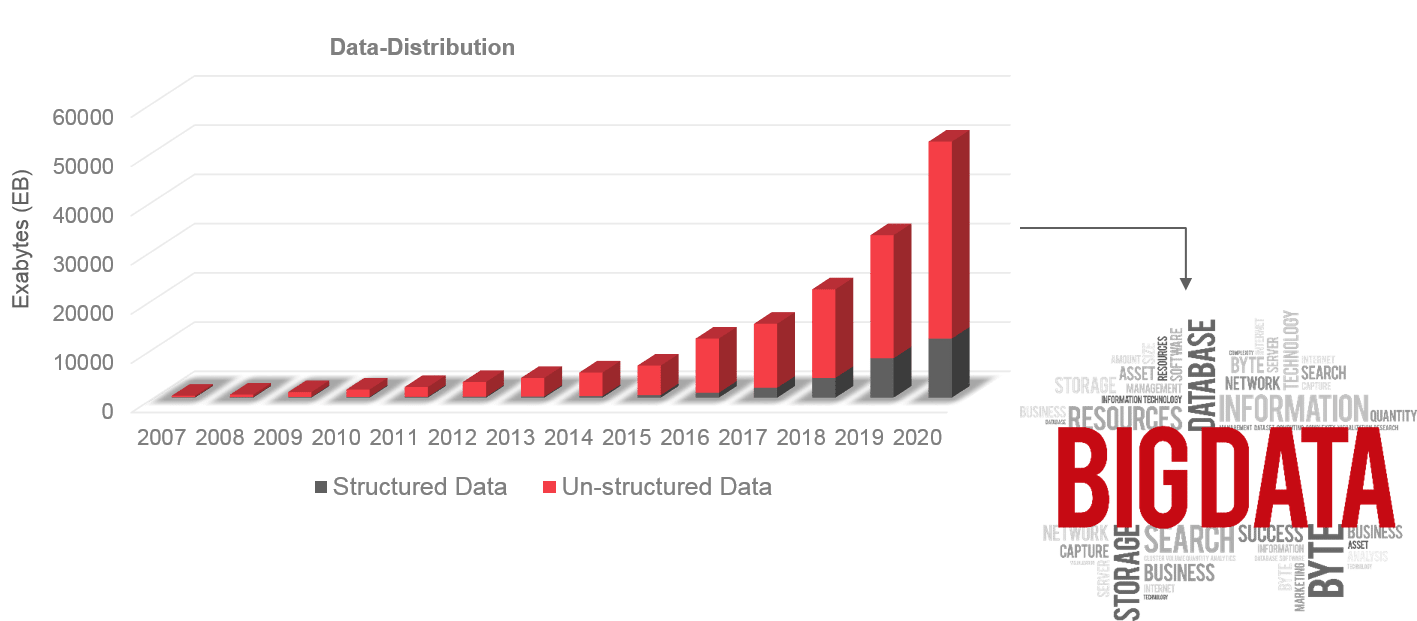 The above image clearly shows the tremendous increase in un-structured data (images, mail, audio, etc.) which can only be analysed by adopting Big Data Technologies such as Hadoop, Spark, Hive, etc. This has led to serious amount of skill gap w.r.t. available Big Data professionals in the current IT market. Hence, it is not at all surprising to see a lot buzz in the market to learn hadoop.
9. Big Data Revolutionizing Various Domains
Big Data is not leaving any stone unturned now a day. What I mean by this is that Big Data is present in each and every domain, allowing organisations to leverage it's capability for improving their buisness values. The most common domain which are rigorously using Big Data and Hadoop are healthcare, retail, goverenment, banking, media & entertainment, transportation, natural resources and so on as shown in the image below: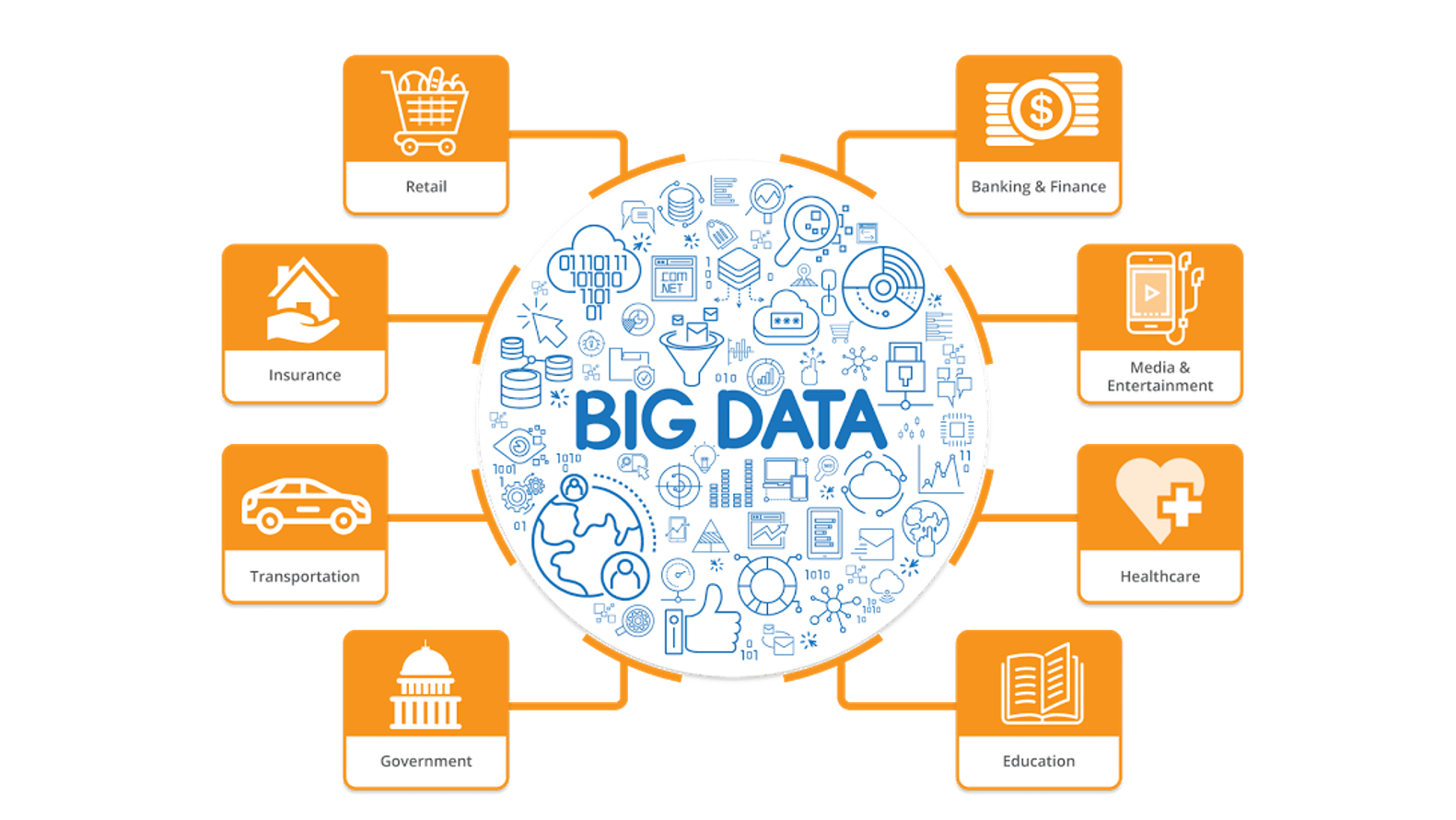 Hence, you can build your career into any of these domin by learning Hadoop. Further, you can go through this Big Data Applications blog to understand how Big Data is revolutionizing different domains.
8. Increasing Demand for Hadoop Professionals
"Hadoop Market is expected to reach $99.31B by 2022 at a CAGR of 42.1%" – Forbes
The demand of Hadoop can be directly attributed with the fact that it is one of the most prominent technology that can handle Big Data, and is quite cost effective & scalable. With the swift increase in Big Data sources & amount of data, Hadoop has become more of a foundation for other Big Data technologies evolving around it such as Spark, Hive, etc. This is generating a large number of Hadoop jobs at a very steep rate.

Increase in demand of YARN (Source: Forbes)
7. Scarcity of Big Data Hadoop Professionals

As we discussed, Hadoop job opportunities are growing at a high pace. But most of these job roles are still vacant due to a huge skill gap still persisting in the market. Such scarcity of proper skill set for Big Data and Hadoop Technology has created a vast gap between supply and demand chain.
Hence, now is the right time for you to step ahead and start your journey towards building a bright career in Big Data & Hadoop. In fact, the famous saying – "Now or Never" is an apt description that explains the current opportunities in the Big Data and Hadoop market.
6. Learn Hadoop for Fat Paycheck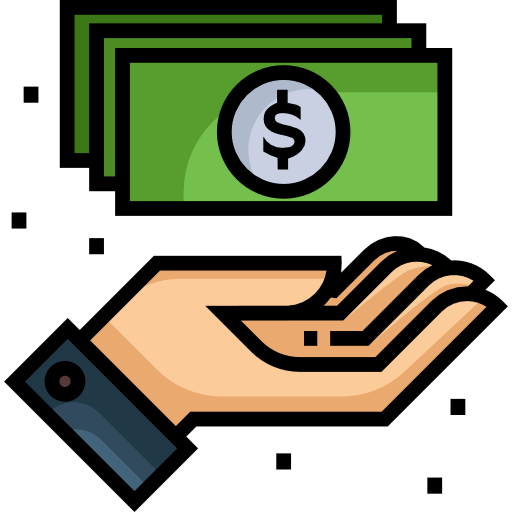 One of the captivating reason to learn Hadoop is the fat paycheck. The scarcity of the Hadoop professionals is one of the major reasons behind their high salary. According to payscale.com, the salary of Hadoop professionals variates from $93K to $127K anually, based on differnt job roles.
5. Big Data & Hadoop Trend

As per the Google trends, hadoop has a stable graph in past 5 years. One more important thing to notice is, the trend of Big Data & Hadoop are tightly coupled with each other. Big Data is something which talks about the problem that is associated with the storage, curation, processing and analytics of the data. Hence, it is quite evident that all of the companies need to tackle the big data problem one way or another for making better business decisions.

Hence, one can clearly deduce that Big Data & Hadoop has a promising future and is not something that is going to vanish into thin air atleast in the next 20 years.
4. Caters different Professional Backgrounds
Hadoop Ecosystem has various tools which can be leveraged by professional from different backgrounds. If you are from programming background, you can write MapReduce code in different languages like Java, Python, etc. If you are exposed to scripting language, Apache Pig is the best fit for you. Alternatively, if you are comfortable with SQL then you can go ahead with Apache Hive or Apache Drill.
The market for Big Data analytics is growing across the world and this strong growth pattern translates into a great opportunity for all the IT Professionals. It is best suited for:
3. Various Big Data and Hadoop Job Profiles
There are various job profiles in Big Data & Hadoop. You can pursue any one on them based on your professional background. Some of the famous job roles in Hadoop are:
Hadoop Developer

Hadoop Admin

Data Analyst

Big Data Architect

Software Engineer

Senior Software Engineer

Data Scientist
2. Hadoop as a Disruptive Technology
Hadoop has proven itself as a better alternative than that of traditional data warehousing systems in terms of cost, scalability, storage and performance over variety of data sources. In fact, Hadoop has revolutionized the way data is processed now a days and has brought a drastic change in the field of data analytics. Besides this, Hadoop ecosystem is going through continuous experimentation & enhancements. In a nutshell, Big Data & Hadoop is taking out the world by storm & if you don't want to get affected, you have to ride with the tide.
1. Hadoop as a Gateway to Big Data Technologies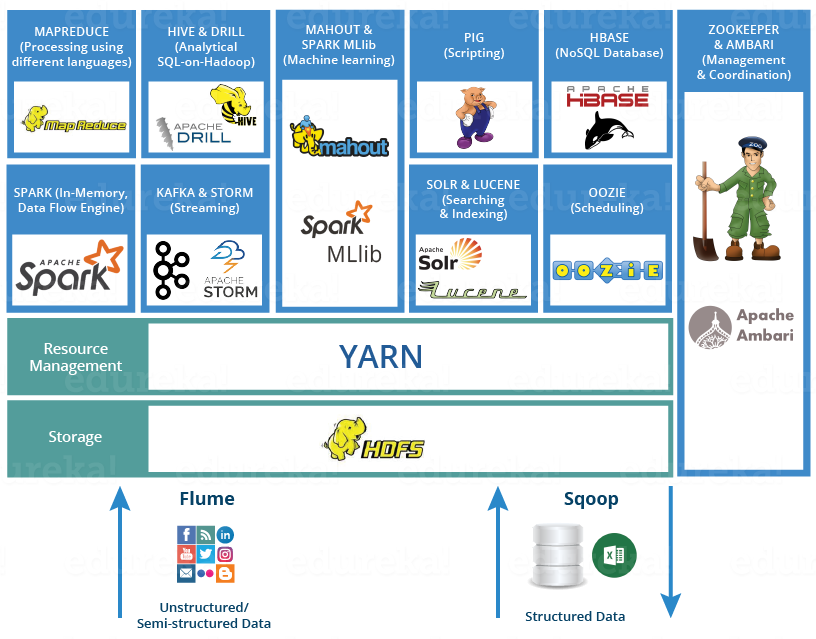 Hadoop has become a de-facto for Big Data analytics and has been adopted by large number of companies. Typically, beside Hadoop, a Big Data solution strategy involves multiple technologies in a tailored manner. So, it is essential for one to not only learn Hadoop but become expert on other Big Data technologies falling under the Hadoop ecosystem. This will help you to further boost your Big Data career and grab elite roles like Big Data Architect, Data Scientist, etc. But for all of this you need to learn Hadoop as it is the stepping stone for moving into Big Data domain.
I hope that you would have found this blog informative. If you want to learn Hadoop, you can start with this Big Data & Hadoop blog series.
Now that you have understood the reasons to learn Hadoop, check out the Hadoop training by Edureka, a trusted online learning company with a network of more than 250,000 satisfied learners spread across the globe. The Edureka Big Data Hadoop Certification Training course helps learners become expert in HDFS, Yarn, MapReduce, Pig, Hive, HBase, Oozie, Flume and Sqoop using real-time use cases on Retail, Social Media, Aviation, Tourism, Finance domain.
Got a question for us? Please mention it in the comments section and we will get back to you.