Year 2016 has been a witness to the phenomenal revival of the global market. According to the labor market outlook of 2016 published by Indeed.com, there is ongoing mismatch between employers and job seekers, worldwide. In many occupations, both high and low skill, employer demand is greater than the supply of candidates, especially in the hottest tech skills we're going to discuss in this blog. The claim is supported by Fortune magazine which says that the 2016 job market is looking bright for workers and that 2016 will be a great time to be on the hunt for a new job — even if you aren't a techie.
Here, at Edureka, we help you to up-skill your tech skills through instructor-led online training. To help you take advantage of the positive job market trends and narrow down on the skills that will give your career boost this year, we have compiled a list of the hottest tech skills to master in 2016. This list comprises of skills that have seen a meteoric rise in demand this year and have attracted major attention from recruiters and candidates alike. These are employable skills that will help you prepare for the job market of 2016 and land top-paying jobs. We have compiled this list based on data collected from multiple surveys and job market trends.

Hottest Tech Skills To Master in 2016
1. Cloud Computing
The sky is the limit in cloud computing and 2016 is indeed the year of the cloud! According to Cloud Computing News, quoting a WANTED Analytics report, there were an estimated 18 million cloud computing jobs globally in 2015, and it's a number that is only set to increase. In fact, according to a recent LinkedIn report, 'cloud and distributed computing' is the number one among the hottest tech skills set to get you hired in 2016.
Forbes supports this insight by reporting $124,300 as the median advertised salary for cloud computing professionals in 2016. The report names Amazon, EMC Corporation, VMware, CenturyLink, Salesforce.com, Oracle, IBM, Microsoft and Accenture among the top ten employers over the last year in the Unites States. Forbes also goes on to list the roles of today's and tomorrow's cloud computing leaders who are leading the cloud revolution within their enterprises. Security managers, Data managers and analysts, Enterprise architects, planners and analysts and Procurement or purchasing managers are among the roles which will matter for the cloud of tomorrow.
Linux, Java, and virtualization expertise are the three most in-demand skills for cloud computing professionals today, according to Joe McKendrick, contributor at Forbes. Here's a graph depicting the most in-demand skills in cloud computing.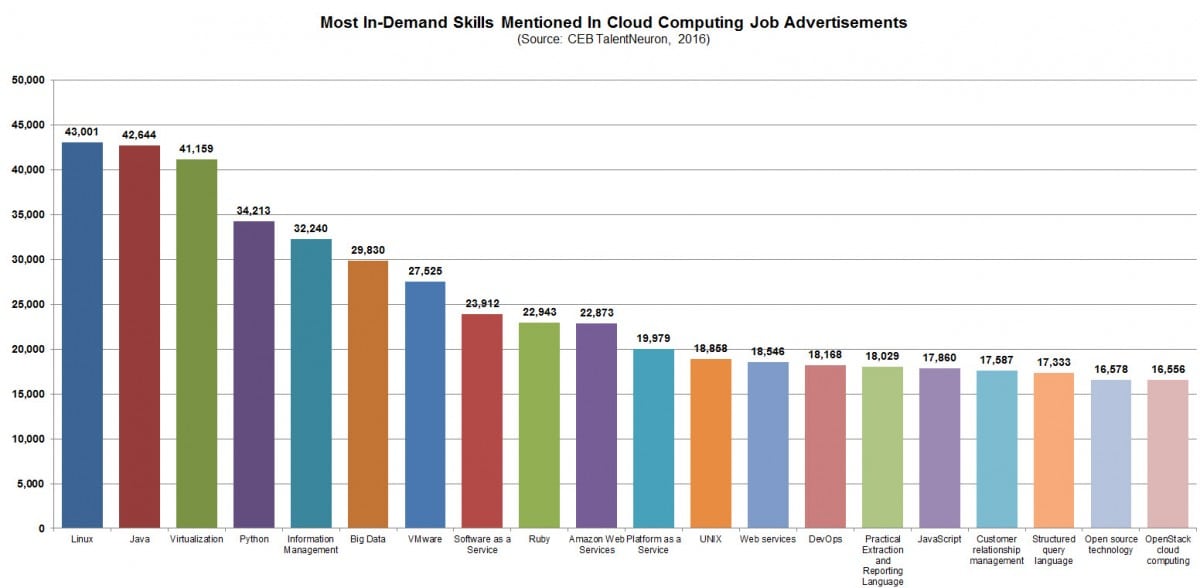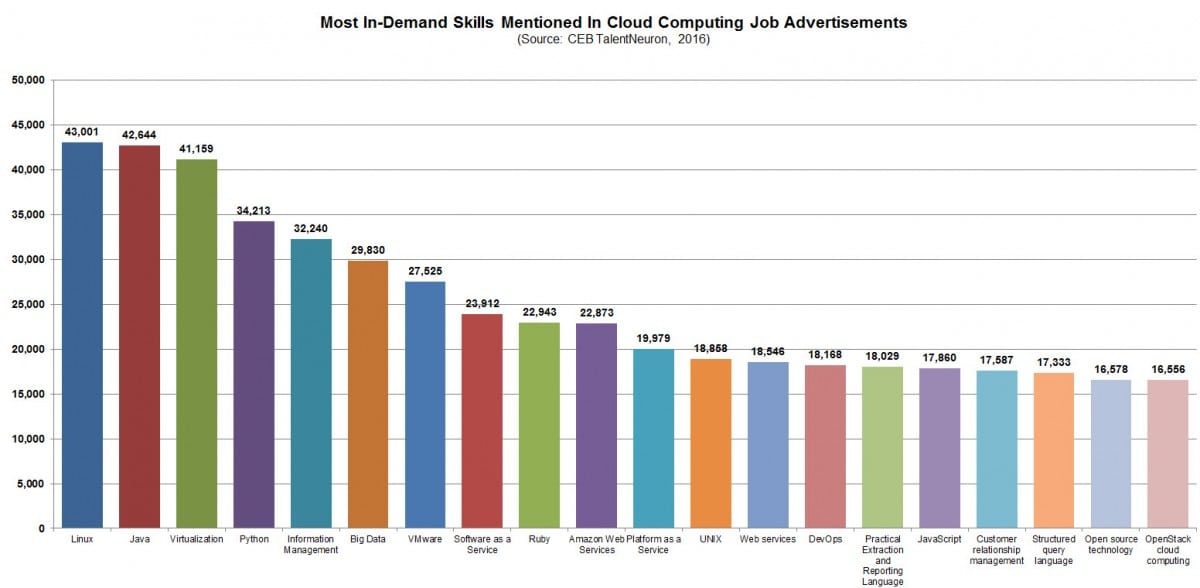 The following graphic shows the most in-demand cloud computing certifications based on CEB labor market analysis as of March, 2016.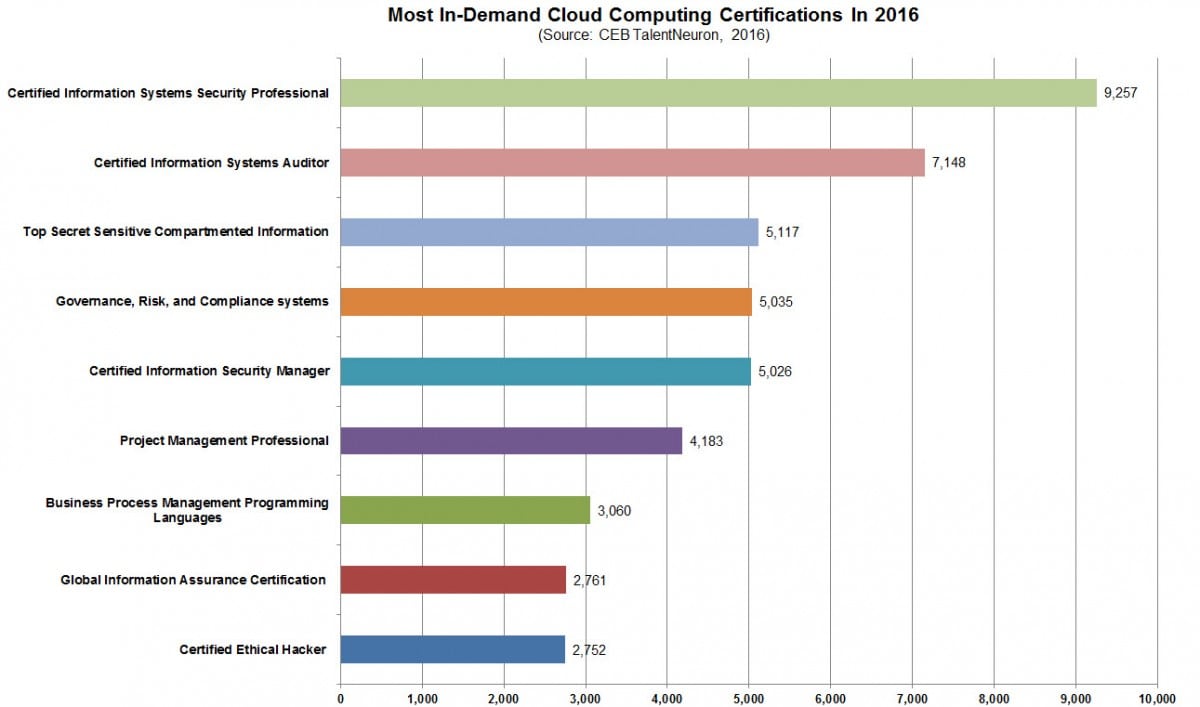 Source: Forbes.com
The 2016 BSA Global Cloud Computing Scorecard ranks Japan, the U.S. and Germany as the top three cloud nations based on factors such as protection of data privacy, security, industry standards, and IT infrastructure. Below a chart depicting the cloud computing readiness of the top 24 countries that account for 80 percent of the world's IT markets.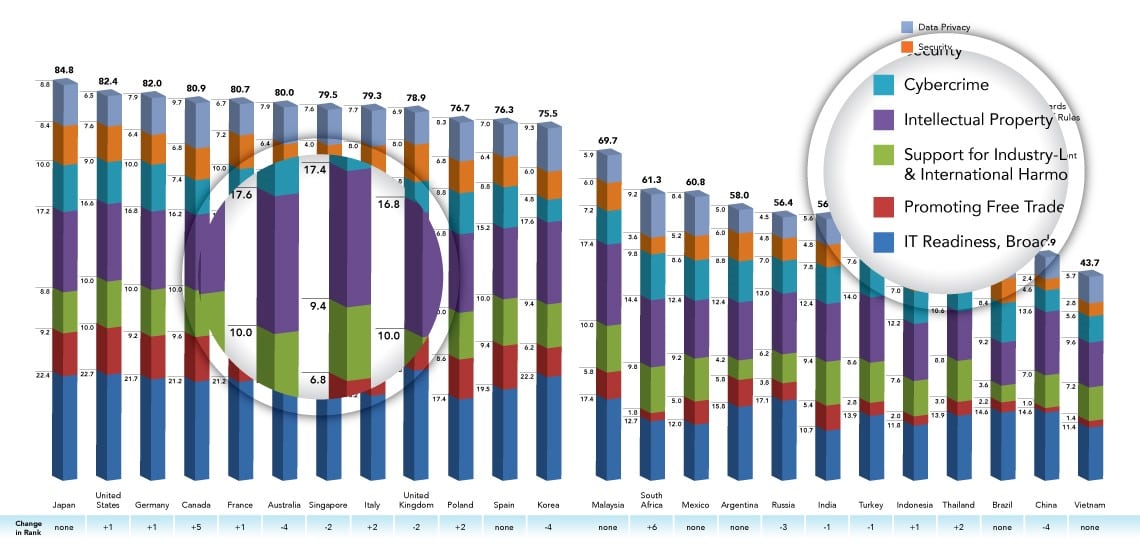 Source: 2016 BSA Global Cloud Computing Scorecard
The opportunities in cloud computing are immense, presenting a very attractive career path for professionals interested in making a career in cloud. A few popular cloud computing job titles are: Cloud Solutions Architect, Cloud Application Developer, Cloud Security Specialists, Cloud Software Engineer, Cloud Services Developer, Cloud Systems Administrator, Cloud Consultant, Cloud Systems Engineer, Cloud Network Engineer and Cloud Product Manager.
Cloud computing is definitely one of the professional skills to master if you want to pursue a career that will only grow on an upward trajectory. This is the right time to up-skill for the cloud and fast-track your career growth. There are two types of emerging cloud computing careers: IT pros with specific cloud skills and IT admins with cloud architecture know-how. Check out the Edureka courses that will help you break into a cloud computing here.
2. Network & Information Security
Network and information security figures among the the hottest tech skills and comes in second in terms of demand for skilled professionals. Not a surprising trend considering the growing number and severity of the data breaches that are coming to light. The results of Computerworld's Forecast 2016 survey suggest that Security professionals are in demand and can command high salaries. Exactly 50% of the IT professionals who participated in the survey said that they plan to increase spending on security technologies in the next twelve months, and security was No. 2 among the most important IT projects that respondents have under way.
Security professionals are in high demand and the cyber security market is expected to grow from $75 billion in 2015 to $170 billion by 2020 according to a Forbes article. A report from Cisco puts the global figure at one million cyber security job openings. Demand is expected to rise to six million globally by 2019, with a projected shortfall of 1.5 million, says Michael Brown, CEO at Symantec, the world's largest security software vendor.
A Cybrary survey of 435 senior-level technology and security professionals says that the demand for skilled cyber security professionals is growing 4x times faster than the overall IT job market and 12x faster than the total labor market. Currently there are a million open jobs for cyber security positions around the world. The same report states that the most in-demand security certifications are Security+, Ethical Hacking, Network+, CISSP and A+.
If you are a technology professional, then crossing over to security can give you a pay hike. Cyber security workers can command an average salary premium of nearly $6,500 per year, or 9% more than other IT workers, according to the Job Market Intelligence: Cybersecurity Jobs 2015 report published by Burning Glass Technologies.
The popular Network and Information Security job titles are:
IT Security Engineer
Security Architect
Security Systems Administrator
Security Analyst
Security Software Developer
Security Consultant/Specialist
Nasscom president R Chandrasekhar has been quoted by The Economic Times as saying that India needs at least one million skilled information security professionals by 2020. A quick search on Indeed.in shows that there are 1406 full-time network and security job openings in India with Accenture, Cisco Systems, Vodafone, IBM, HCL Technologies, Hewlett Packard Enterprise, Oracle and JPMorgan Chase among companies hiring professionals with this skill. Network and information security is a smart choice if you are looking for a career that will provide you with plenty of growth opportunities in the days to come.
Check out the Edureka Linux Administration course now.
3. Big Data
Big Data investments will account for over $46 billion in 2016 alone, with investments further expected to grow at a CAGR of 12% over the next four years according to the "Big Data Market: 2016 – 2030 – Opportunities, Challenges, Strategies, Industry Verticals & Forecasts" report.
The number of Big Data related jobs are growing every day as more and more companies become data-driven and analyze data to increase their profitability. This has led to an exponential surge in demand for Big Data expertise in the last few years. CIO.com's list of the 10 hottest skills for 2016 shows that demand for Big Data skills has moved up from No. 10 in 2015 to No. 4 this year. Over 36% of companies say they will look for candidates with Big Data training and skills during the next 12 months.
The Demand for Big Data professionals is only going to rocket in the coming days and up-skilling now will prepare you for a future-proofed career. Datajobs.com quotes a McKinsey Global Institute study that states: By 2018, the United States alone could face a shortage of 140,000 to 190,000 people with deep analytical skills as well as 1.5 million managers and analysts with the know-how to use the analysis of Big Data to make effective decisions.
The top Big Data related skills that are most in demand are Apache Hadoop, Apache Spark, NoSQL, Python, Java, and R. Big data systems being used in the field commonly have a NoSQL architecture, and implementations of this architecture include Hadoop HBase, Cassandra, MongoDB, CouchDB etc. But, it might be too early to write off SQL; a CrowdFlower analysis of the 3,490 postings for Data Science jobs on LinkedIn found that SQL is the most commonly cited skill. VMWare, Data Warehousing and Python programming expertise are the skill sets growing the fastest in companies expanding their Big Data development teams according to Louis Columbus, a contributor with Forbes.
Some of the most sought-after job profiles in Big Data are:
Data Scientists – named as the sexiest job of the 21st century by Harvard Business Review
DBAs / Database Technology Engineers – professionals with expertise in Hadoop and NoSQL technologies
Data Analysts and Managers – professionals with expertise to collect, process and perform statistical analyses of data
Here's a graph showing the rising demand for top Big Data roles and skill sets.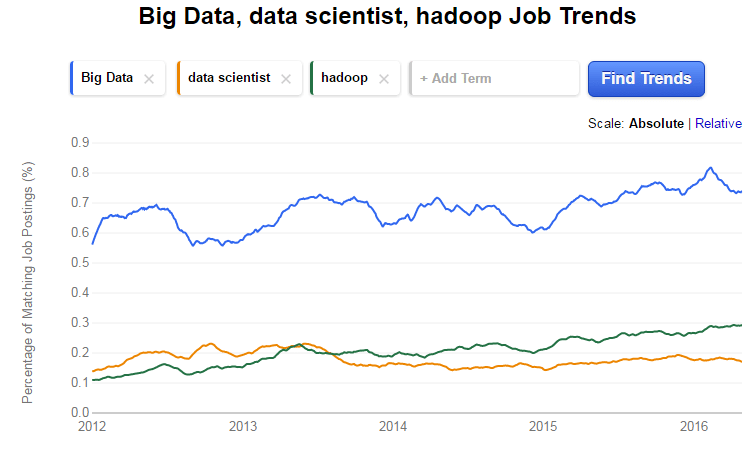 Source: Indeed.com
The average salary for professionals with Big Data expertise is $88,000 a year in the United States according to Indeed.com. Sample jobs in this category include Big Data Architect, Big Data Engineer, Big Data Analyst, IT Analysts, and many others. Amazon Web Services, Cisco Systems and Microsoft are among the top hirers. India is not far behind with 3344 Big Data job openings on Indeed alone and over 4000 job postings on Naukri.com with salaries extending from Rs. 3 lakhs p.a. to over 25 lakhs. United Kingdom has 6467 Big Data jobs which pay £30000+ currently listed on Indeed.
Demand for sales representatives with the know how to sell Big Data solutions is also at an all-time high. Other Big Data jobs in high demand are Information Security Analysts and Management Analysts.
Ride the Big Data wave now; get started with Hadoop, Spark, Data Science and other top-paying skills. Click here to know more.
4. Application Development
Application development has emerged as one of the hottest tech skills to master in 2016. Various career surveys and industry reports state that app developers can look forward to a great year in 2016, and a great future even after 2016!
According to CIO.com, there will be a predicted additional 186,600 openings for application developers by 2024. As the demand for computer software grows, so does the need for more developers, which is reflected in the salary increases for most app developer titles. According to the 2016 Salary Guide for Technology Professionals edited by Rober Half Technology, mobile app developers will increase their salaries by 8.2% in 2016, appearing on No. 4 of the 'top eight high-increasing IT jobs salaries for next year' according to the guide.
Payscale.com says that the total cash earnings of Application Developers range from $45K on the low end to $101K on the high end; the final amount can include bonuses and profit sharing proceeds that occasionally exceed $10K and $8K, respectively. Indeed.com presents an even better picture by putting the Application Developer salaries in the US at $82,695 per year. Payscale.com puts the median salary for app developers in India at Rs. 517,894 per year, with number of years of work experience and certifications leading to a bump in the total pay. Here's a graphic representation of the career path an application developer can follow.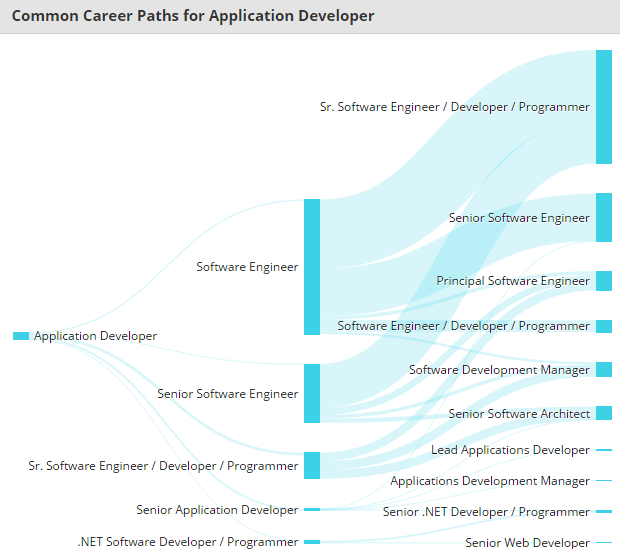 Source: Payscale.com
Among app development jobs, Mobile app developer has emerged as one of the top jobs in the IT industry. 89% of consumer media time is spent in Mobile Apps as per a Nielson study. AppIndex.com states that there are about nine million app developers in the world but demand for their skills is increasing all the time. The same reports says that even though iOS mobile platform demonstrates the highest opportunity to generate revenue, Android and Windows platforms provide a higher salary and should be considered as an option.
A few popular app development job titles on Indeed.com are:
Android Developer
PHP Developer
iOS Developer
Java Developer
Software Developer
Dot Developer
Web Developer
UI Developer
There are 36832 full-time app developer jobs in India on Indeed as of June 2016, and 66787 full-time jobs in the US. There are 202 full-time app developer jobs in the UAE and 12153 in the UK, showing that the demand for app developers is a worldwide trend.
According to Buildup.io, Mobile Applications Developers need strong analytical and problem-solving capabilities. Employers require previous experience building mobile applications and mobile websites for Android, iOS, Symbian, Windows Mobile or Windows Phone 7. Commonly specified languages and platforms include Java, Java EE, Java ME, JavaScript, JSON, Objective-C, .NET and HTML. Skills that are associated with high pay for this job are Java/J2EE, Hibernate, Spring, and UNIX. It's obvious that mobile app developer job will continue to be lucrative. Don't miss the chance to fast-track your career growth, up-skill now with industry-recognized application development courses by Edureka. Check them out here.
5. Data Mining
We live in the age of data where 2.5 quintillion bytes of data is produced every day — so much that 90% of the data in the world today has been created in the last two years alone. Deriving meaningful information from this humongous pile of data is a challenge and this is where Data Mining comes in to the limelight. The data being generated and captured is getting bigger and bigger with every passing day as are the rewards of Data Mining. .
A recent Gartner forecast states that we can expect a greater uptake of Data Mining, Machine Learning and Visualization along with emerging analytics technologies like semantic and graph analyses, simulation, complex event processing and neural networks. Among the tools used in Data Mining, 'R' is considered to be the world's most powerful programming language for statistical computing and graphics, making it a must-know language if you are considering a Data Mining or Data Science career. KDnuggets lists 'R' among the nine must-have skills you need to become a Data Scientist. SAS is another analytical tool that will help you make a strong case while applying for a Data Mining job.
The KDnuggets 2016 Software Poll results show that R remains the leading tool, with 49% share, up from 46.9% in 2015. Here's a graphical representation of the same.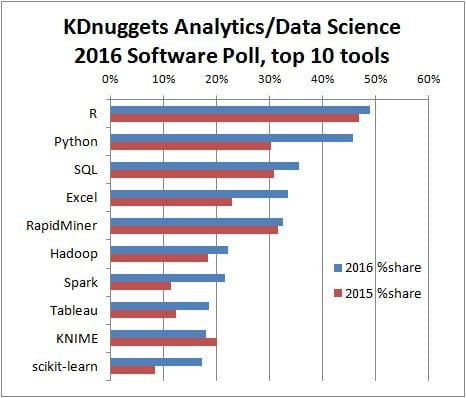 Source: KDnuggets.com
A quick search on Indeed.com shows that, as of today, there are 10,867 in the United States alone, with Amazon Corporate, KPMG, and Microsoft having the most job openings. The average salary for Data Mining jobs in the United States is $89,000. UK is not far behind, with Indeed showing 1333 full-time Data Mining job openings. Naukri.com lists 4738 Data Mining jobs in India and LinkedIn lists more than 1200.
A few popular job titles are:
Data Scientist
Data Analyst
Insight Analyst
Business Analyst
With more and more global companies trying to derive meaningful insights from their Big Data to determine the impact on sales, customer satisfaction, and corporate profits, it can be safely said that Data Mining is the best career move. Don't be left behind; up-skill with R and SAS now – click here!
6. DevOps
According to Gartner, organizations around the world are increasingly adopting the DevOps culture, and by the end of 2016, 25 percent of top global 2000 organizations would have adopted DevOps as a mainstream strategy. This opens up myriad opportunities around DevOps careers.
The reputation of DevOps as a methodology that provides developers and operations managers with consistent software delivery, faster resolution of complex problems and neater and crisp feature delivery, continues to hold sway in 2016. According to the "Global DevOps Platform Market 2016-2020", created by the research firm Research and Markets, the DevOps market will see a growth rate of around 20 percent (CAGR of 19.42%) through the end of the decade. This is seconded by the Puppet 2016 State of DevOps Report that found that respondents who report that they are part of a DevOps team increased from 16 percent in 2014 to 22 percent in 2016. It can be safely said that DevOps is here to stay!
DevOps is a philosophy, a cultural shift that merges operations with development. It is gaining serious traction with companies looking to bridge the gap between developers and operations, as shown by research firm Foote Partners' latest quarterly IT Skills and Certifications Pay Index. According to the report, DevOps skills gained a healthy 14.3 percent in average market value with salaries standing at $119,709 for DevOps Engineers, and $134,512 for Lead DevOps Engineers in the US.
Payscale.com shows that the DevOps salaries are at an all-time high in India too, with the median salary for DevOps Engineer coming up to Rs 769,410. A look at the below given career trend graph for DevOps will show that the demand for DevOps professionals continues to grow exponentially. This trend is reflected globally.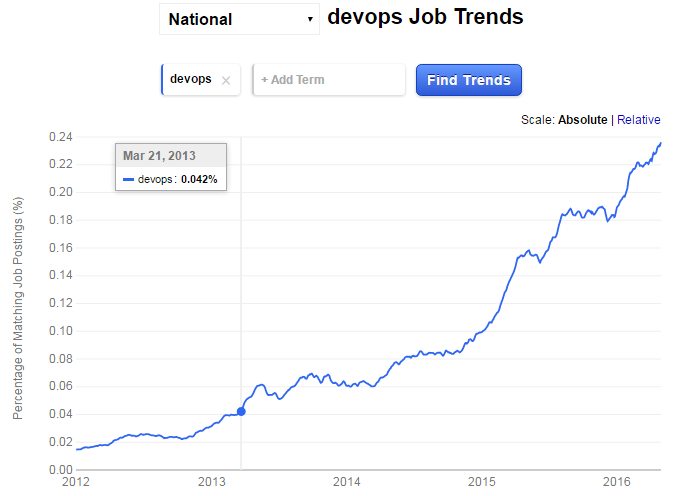 Source: Indeed.com
A few of the popular DevOps job titles are:
DevOps Architect
Automation Engineer
Software Tester
Security Engineer
Integration Specialist
Release Manager
There has never been a better time to skill-up with DevOps. Get started now with the Edureka DevOps course and learn DevOps processes and tools like Puppet, Jenkins, Nagios, GIT for automating multiple steps in SDLC, Ansible, SaltStack and Chef. Click here to check out Edureka's online, interactive DevOps course.
7. Project Management
The 2016 Jobs Report by PMI.org discusses an existing Project Management talent gap that threatens to stymie growth of organizations. This talent gap spells good news for project practitioners, who can expect increased career growth in 2016 and 2017. With industries back on the growth track and the pace of business picking up, there is a need for well-executed projects that deliver strategic value and for skilled Project Managers to drive these projects.
While growth is seen across sectors, the sectors which have a pressing need for project management expertise – offering big opportunities for anyone looking to get hired or get ahead are Telecom, Construction, Energy, IT, Aerospace & Defense, Finance and Healthcare. (Source: 2016 Jobs Report by PMI.org) As early as 2013 PMI had predicted a 12 percent increase in Project Management positions over the next few years, resulting in nearly 6.2 million jobs by 2020.The prediction is well on its way to becoming a reality with multiple surveys and studies confirming an upward trajectory in the growth of Project Management jobs.
According to the data from Mondo Tech Salary Guide, many titles that fall under the category of Project Management are experiencing an increase in annual compensation ranges as well as in number of available positions. Robert Half Technology 2016 salary guide shows that Project Manager salaries are up from $91,250 – $139,250 in 2015 to $95,250 – $146,500 in 2016, growing at a rate of 4.9% in the United States. The report also states that Project Management Professional (PMP) certification is a hot certification in 2016, and that a project management certification is strongly preferred by employers.
A quick search on Payscale.com shows the median total pay for Project Managers as Rs. 986,898, with PMP certification leading to a substantial bump in the pay. Itjobswatch.co.uk quotes the median salary for a Project Manager in the UK as £50,000, with seniority bringing in higher pay.
The most popular project management job titles are:
Project Manager
Program Manager
Portfolio Manager
Delivery Manager
PMO Manager
Project Leader
Project Coordinator
The top five countries which offered the highest median salaries for Project Management professionals in 2015 as per the PMI 2016 Jobs Report are Switzerland $130,000, Australia $108,546, United States $108,200, United Kingdom $92,221 and New Zealand $90,442. Netherlands, Belgium, Germany Qatar and the UAE also figure in the top 10. Among survey respondents, holders of the Project Management Professional (PMP)®certification earned on average a 20-percent higher salary than those without a PMP® certification. Find out how PMP® certification can help you bag top Project Management jobs in this blog.
It's the right time to take your interest in Project Management further and bag your dream job. Get started now with Edureka's PMP Exam Preparation course. Click here.
8. Business Intelligence
Business Intelligence is a Big Data-related skill that is showing strong career prospects in 2016. Gartner has already seen an analytics and BI boom as more and more data is shared, leading to a rising demand for skilled professionals who can make intelligent decisions from the data. As an increasing number of companies use data to drive business growth, the field of Business Intelligence is expected to evolve and respond to these industry needs.
A study of the business intelligence marketplace by Pringle and Company, a technology market research firm, found that spending on Business Intelligence services may outpace spending on software by a two-to-one margin. The McKinsey Global Institute has predicted a shortfall of 1.5 million data savvy managers. Professionals with the knowledge and skills to provide these services will be in high demand in the coming months.
SQL is considered as a core skill for a successful Business Intelligence career. SQL combined with an ETL or reporting tool would equip you for a BI career. A degree in computer science, technology, engineering, and/or mathematics is usually preferred. If you are planning to pursue a front-end reporting role, then experience in Business Objects, Cognos, Microstrategy, Hyperion or SSRS could be helpful. A back-end / ETL role would require skills in Informatica, Datastage or Ab Initio. Familiarity with Oracle, Tableau, Microsoft BI and DB2 will also help.
Business Intelligence professionals are not only required to analyze data, but also create easily usable reports and analysis for decision making. Hence, non-technical skills such as strong communication, presentation and interpersonal skills are also expected from a candidate.
A few popular Business Intelligence job titles are:
Business Intelligence Administrator
Business Intelligence Manager
Business Intelligence Consultant
Business Intelligence Analyst
Business Intelligence Project Manager
Business Intelligence Developer
DBA/SQL Server for Business Intelligence
According to Payscale.com, the average pay for a Business Intelligence (BI) Analyst in India is Rs 516,748 per year as of June, 2016. Experience strongly influences salary for this job. The median salary for BI jobs in the UK is £50,000 according to itjobswatch.co.uk, with 90% of the companies offering a salary of more than £33,000. According to Robert Half Technology's Salary Guide, the average starting compensation for Business Intelligence Analyst salaries in the United States ranges from $113,750-$164,000 and is expected to increase 6.2 percent this year!
The time is right to secure a strong foothold in the lucrative and expanding career path of Business Intelligence. You can build a strong case to bag a top BI job by learning the most prominent BI tools and getting certified. Get started now and up-skill with the best courses in the industry here.
9. Data Engineering & Data Warehousing
With every click of a link or tab generating data that accumulates in a data warehouse, companies are looking for professionals to manage their data warehouses and help extract insightful information for smart management decisions. In such a scenario, it comes as no surprise that Data Warehouse experts are in high demand. A recent LinkedIn report ranks Data Warehousing among the top skills in demand globally.
According to the Tech Salary Guide for 2016 by Mondo, Data Warehouse Engineer salaries increased by 3 percent in the last year. The guide puts Data Warehouse Engineer salary at $126,000 to $155,000. A quick search on Indeed.com shows 2450 full-time Data Warehouse Engineer positions in the US. Glassdoor shows over 400 job listings for India and LinkedIn shows around 100 open position in the UK. Top companies looking for Data Warehouse Engineers include Amazon, SAP, AOL and Oracle.
A sea of opportunities exist for Data Warehousing professionals. Some of the popular job titles are:
Data Warehousing Consultant
Data Miner
Business Intelligence Technical Specialist
Data Warehousing Business Analyst
Data Warehousing ETL Expert
Data Warehouse Architect
Data Warehousing Developer
Read more about Data Warehousing career trends in this blog.
The Data Warehouse market is seeing a disruption with more and more organizations considering cloud-based deployments of their analytics environments and data lakes entering the market, as shown in the Gartner Magic Quadrant March 2016. But, even with these market developments, Data Warehousing is still going strong and there is sustained demand for Data Warehousing professionals. It's not too late to acquire Data Warehousing skills and become a Data Warehouse expert. Edureka has a specially curated course on Data Warehousing and Business Intelligence. Get started now; click here.
10. Perl, Python, Ruby
These dynamic languages have been listed among the hottest skills of 2015 in a recent LinkedIn skill outlook report for 2016. Although Python seems to lead the pack, Perl and Ruby continue to have a positive job market outlook through 2016.
Perl is called the Swiss Army chainsaw of scripting languages and with good reason. Its adaptability and strength still finds favor in the developer community. Contrary to rumors of a slow death, Perl has in fact risen in popularity in 2016 and comes in at No. 8 in the TIOBE index, having gained 0.64% in June after jumping four slots between February 2015 and 2016.
Ruby is among the top 10 programming languages as per TIOBE and fifth most popular according to RedMonk's January 2016 rankings. Much of the growth is attributed to the popularity of software written in Ruby, particularly the Ruby on Rails web framework. While TIOBE ranking is based on the number of skilled engineers world-wide, courses and third party vendors, Redmonk's ranking is based on an analysis of GitHub and Stack Overflow.
Python is widely-used by programmers to express concepts with fewer lines of code and has consistently ranked in the top eight most popular programming languages on TIOBE Programming Community Index. A quick search of the TIOBE programming index for June 2016 shows that Python stands at No.4, right after the C programming languages and has a rating of 3.9%. It is the third most popular language whose grammatical syntax is not predominantly based on C, e.g. C++, C#, Objective-C, Java. You can learn more about the career opportunities in Python here.
Given below is the TIOBE index plotting the growth in popularity of these programming languages in the recent years.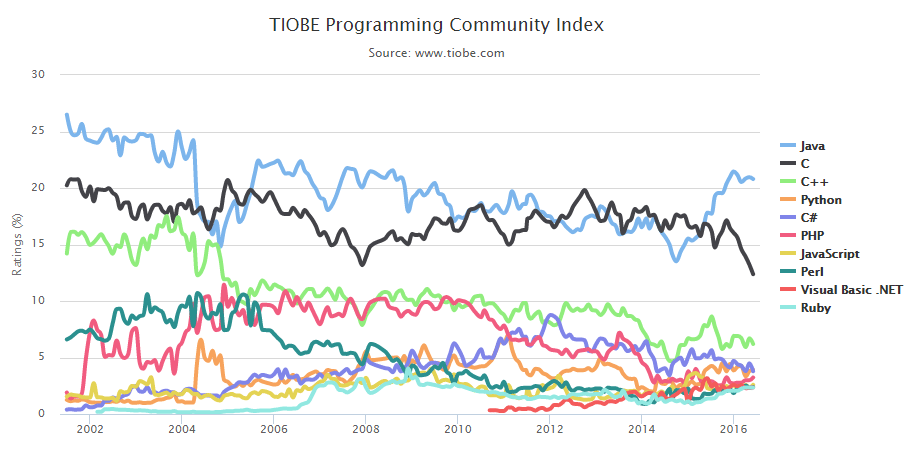 Source: TIOBE
Although specific requirements for IT positions vary across industries and regions, Perl, Python and Ruby on Rails skills are in high demand with employers. In fact, according to the Robert Half Technology 2016 salary guide, Perl/PHP/Python skills can lead to a salary increment of 8% in the USA and 7% in Canada. Similarly, knowledge of Ruby on Rails can get you a 6% higher salary in your IT job in the USA/Canada.
Python and Ruby skills are also listed among the required skills for top-paying App Development positions according to Mondo Tech salary guide. This guide puts the salary range for a Ruby on Rails Developer between $119,000 to $170,000 and a Python Developer's salary range between $94,000 and $140,000. Here's a salary report from Indeed.com that bolsters this outlook.

Source: Indeed.com
The popular Perl job titles are Perl Developer, Software Engineer and Programmer. The popular Python job roles are Python Developer, Python Engineer, Data Engineer, Systems Engineer and Data Analyst. The popular Ruby job titles are Software Engineer, Ruby on Rails Developer, Ruby Engineer and Ruby Developer.
Take advantage of the career opportunities that come with Perl, Python and Ruby expertise now! Upgrade your skills here.
A few other employable skills / technologies that are predicted to fetch big dividends in the coming years are Shell Scripting Languages, Java, Full Stack, HANA, OpenStack, CloudStack and Puppet. Start mastering the skills listed in this blog to position yourself as a top candidate in the eyes of your prospective employers and bag your dream job in the coming months. These skills, combined with leadership skills and soft skills will definitely get you on the fast-track to career growth and success. Good luck!

Check out Edureka's interactive, online courses that will help you make 2016 one of the best years in your professional career. Click here to get started.
Got a question for us? Please mention it in the comments section and we will get back to you.
Related Posts:
Ten Reasons Why Big Data Analytics is the Best Career Move